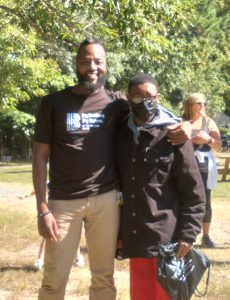 EASTERN SHORE, MD – As part of their Brovember campaign, Big Brothers Big Sisters of the Eastern Shore, Inc. (BBBSES) is happy to highlight Wicomico County Big Brother Latif. Latif wanted to become a mentor because he knew there were children in need in the community and wanted to be a role model to one of them. Latif was matched with his Little Brother during BBBSES' Big Moments Campaign over the summer and the two have bonded fast. Latif's Little Brother now has a friend to talk to about his day at school, a strong male role model to look up to, a mentor to help him navigate through his teenage years, and a Big Brother to go do new activities with.
When asked about being a mentor Latif shared, "It means the world to me to have the opportunity to be a Big Brother to my Little Brother. In the beginning I prepared myself to step into this role, to be a positive role model in his life. I quickly learned that, in reality, I really just get to be myself. He's more appreciative of me being myself, being open, being alert and aware of what is going on with him. We have a great time….we make memories."
Latif had this advice to share, "If you're thinking about joining this program I would say: Do it. Don't let anything deter you. You get an opportunity to be yourself, follow your heart, and just be open to the experience and the opportunity. I guarantee you'll make a difference in someone else's life, and you'll learn a lot about yourself."
If you would like to learn more about becoming a mentor or how you or your business can help support mentoring matches by making a donation, please visit www.shorebiglittle.org or call 410-543-2447. You can also connect with BBBSES online. BBBSES social media handles are www.facebook.com/bbbses; TikTok @ESBigs; Instagram @ESBigs; Twitter @ESBigs.
BBBSES is an affiliate of Big Brothers Big Sisters of America, the largest and most experienced youth mentoring organization in the United States. BBBSES is a non-profit providing free mentoring services to children ages 6 – 16 in all 9 counties of Maryland's Eastern Shore. BBBSES depends on community involvement to enhance match experiences. Expanding Social Media platforms creates new channels to create and support one-to-one mentoring relationships that ignite the power and promise of youth."