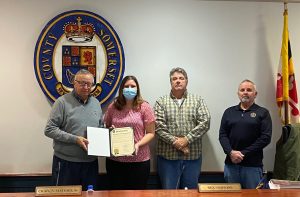 Every January, Big Brothers Big Sisters of the Eastern Shore (BBBSES) unites community members across the area to celebrate National Mentoring Month. This month-long celebration of mentoring is full of exciting opportunities to grow the movement and raise awareness about the power of mentorship. The agency's goal is to drive meaningful change for young people by raising awareness and recruiting new volunteer mentors.
As part of this month long celebration, Big Brothers Big Sisters of the Eastern Shore will launch its Big Acts of Kindness Campaign. This is a challenge to all BBBSES matches, families, and team members to spread kindness in the community. As part of this campaign, the agency will promote "Big Smiles" for all new and existing mentor matches, spreading kindness and smiles across the Eastern Shore by posting the smiling faces of matches on social media. The agency will also be accepting National Mentoring Month Proclamations from Counties across Maryland's Eastern Shore.
On Thursday, January 13th Big Brothers Big Sisters of the Eastern Shore will host a Business After Hours through the Salisbury Area Chamber of Commerce.  BBBSES invites all individuals, businesses, government agencies, schools, faith communities and nonprofits to support the agency to promote volunteering as a mentor to help ensure positive outcomes for young people in the community.
Big Brothers Big Sisters of the Eastern Shore would like you to take a moment to thank the mentors in your life. Let them know what their support means to you, become a mentor and make a lasting change in your community, and inspire others to join the movement by becoming a mentor.
This National Mentoring Month, inspire a local child to feel empowered, encouraged, and understood. Mentors can make that world a reality by helping young people find and follow their passions, excel in school, and improve relationships with family and peers. Mentoring is an important component of positive youth development, promoting academic success, engagement in extracurricular activities, and connections to new opportunities.
To schedule a presentation, meeting or learn more information about Big Brothers Big Sisters of the Eastern Shore, to make a positive change in a local child's life by becoming a mentor today, or to support to BBBSES's vital mission by making a donation, please visit www.shorebiglittle.org or call 410- 543-2447.