Salisbury, MD-
Big Brothers Big Sisters of the Eastern Shore, Inc. (BBBSES) hosted Barber Shop Day, sponsored by Community Foundation of the Eastern Shore. The boys enrichment event took place at 410 Arts & Sports Community Center, in Salisbury, MD, on Saturday, February 22nd.
Barber Shop Day is designed to inspire boys, age 6-18 years of age, to be confident in their appearance, promote healthier choices, and cultivate good manners. The event focused on promoting positive self-image, inspire confidence, and cultivate community.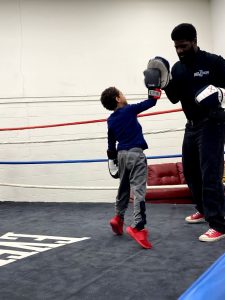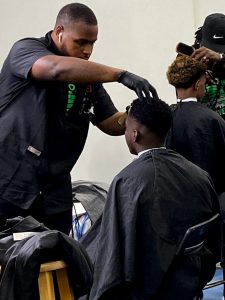 The young men enjoyed professional haircuts from local barbers, fitness activities, health talks, and guest vendors who provided fun and enriching activities. The event included a how to necktie station with donations from Goodwill and Salvation Army, hosted by Men of Distinction; a reptile station hosted by Salisbury Super Pet; barber stations hosted by local barbers; smoothie station hosted by Expanded Food and Nutrition Education Program; boxing and basketball stations provided by 410 Arts & Sports Community Center and run by Salisbury University football team members; and a health talk station with the Wicomico Health Department. Boys received lunch provided by The Catering Specialist during the event and music by DJ Seven. Care packages full of resource items such as toothbrushes by Rick Dawson Dentistry and bathing products by staff from Mountaire Farms and Residence Inn Marriott were distributed as boys exited the event. A huge thank you goes out to sponsors, staff, volunteers, and all who made this event possible.
BBBSES is an affiliate of Big Brothers Big Sisters of America. Their mission is to provide children facing adversity with enrichment and strong and enduring, professionally supported one-to-one relationships that change their lives for the better, forever.
Services and programs are offered in Caroline, Dorchester, Kent, Queen Anne's, Somerset, Talbot, Wicomico, and Worcester counties.
For more information about BBBSES or to become a mentor, go to www.shorebiglittle.org or email info@shorebiglittle.org with any questions.