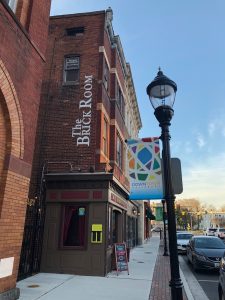 By Cathy Diekmann
When did you last hang out at a local establishment where you feel at home but also enjoy a big city experience?
The COVID-19 pandemic certainly has affected where and how people gather. However, significant improvements in all the state's key metrics and increasing COVID-19 vaccination numbers led Governor Larry Hogan to further ease COVID-19 mitigation measures.
On March 11, 2021, Salisbury Area Chamber of Commerce representatives appreciated a rare opportunity to enjoy an in-person Business After Hours and networking at The Brick Room in downtown Salisbury. The event complied with current, local, and state COVID-19 safety precautions. Social distancing was monitored, and face masks were required except when eating or drinking.
The Brick Room Managing Partner, Alex Scott, was on point, cordially directing guests away from gathering along the bar and toward the outdoor space known as The Brick Alley. There, guests could enjoy the evening breeze and relax in comfy seating safely spaced around a fire pit.
"In 2014-2015, we were lacking a certain vibe in the downtown culture. We envisioned The Brick Room filling that gap," Scott explained. "As a Salisbury native, I wanted to lead the charge in creating a place with a big city feel without leaving home."
The Brick Room eschews the misperception of selling cheap drinks in large quantities for an undesirable purpose.  Scott mused, "Good things, in moderation, are meant to be enjoyed. Like a fine piece of chocolate, you can also enjoy one, quality cocktail and call it done,"
A "mixologist" at heart, Scott provides patrons the opportunity to enjoy finely crafted libations made with traditional ingredients that one might be served in a high-end Washington, DC or Philadelphia establishment.
Scott welcomes the gradual easing of restrictions on the food and drink industry but never at the risk of his patrons or staff.  "COVID was a really challenging time to be in this business, but more than anything, we want our customers and staff to come through it healthy."
As for the future, Scott is hopeful. "We're looking forward to continuing our vision to expand the downtown Salisbury culture, responsibly and safely."