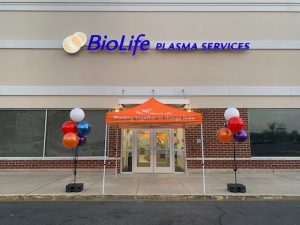 Salisbury, MD – BioLife Plasma Services, part of the global biopharmaceutical company Takeda, opened their Salisbury center on Saturday, September 9, 2023.
Plasma donations received at BioLife centers are used by Takeda to make established therapies that treat a range of rare and complex conditions for which there is often no alternative treatment. "We are excited to open the first plasma donation center on the Eastern Shore of Maryland. Donors have a unique opportunity to make a difference in the community through plasma donation." said Darin Baker, manager of the BioLife Plasma Services' Salisbury center.
During each donation, plasma is separated from the blood and the blood elements are returned to the donor's body, through a simple, low-risk process called plasmapheresis. Screened plasma collected from healthy individuals is processed into a wide variety of therapeutics for people around the world with rare, life-threatening diseases, such as immunodeficiency disorders, hemophilia, and hereditary angioedema.
Prospective donors can make online appointments to visit the Salisbury center. They must pass a physical examination at their first visit and are screened at each visit to ensure they meet eligibility criteria. All donors are compensated for their time and commitment.
For more information or to schedule your appointment visit us at www.biolifeplasma.com/locations/maryland/salisbury
About Plasma
Plasma is the clear, straw-colored liquid portion of blood that can be easily replaced by the body. Plasma makes up more than half of whole blood and consists primarily of water and proteins. During plasma donation, a donor's blood is collected into an automated device that separates the plasma from the other whole blood components, including red and white blood cells and platelets. While the plasma is collected, the other blood components are returned to the donor. Each donation procedure uses sterile and disposable collection materials. The body quickly replaces the plasma removed during the donation process, which allows healthy individuals to donate as often as twice in a seven-day period, with at least one day between donations.
About BioLife Plasma Services
BioLife Plasma Services is an industry leader in the collection of high-quality plasma that is processed into life-saving plasma-based therapies. Founded in 2002, BioLife has been in operation for 21 years. We operate more than 200 state-of-the-art plasma collection facilities across the United States. BioLife Plasma Services is part of Takeda Pharmaceutical Company Limited (TSE:4502/NYSE:TAK), a global values-based, R&D-driven pharmaceutical company that produces and delivers plasma-based therapies among other specialty medicines. For more information, visit BioLifePlasma.com