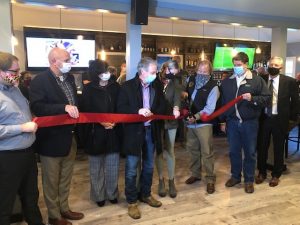 On Wednesday, January 13, 2021, the Salisbury Area Chamber of Commerce held its first ribbon cutting of the new year, celebrating the grand reopening of a Wicomico County institution, Boonies, Burgers, Beer and Bait in Tyaskin, MD.
Co-owners John and Tom Knorr were forced to close Boonies more than a year ago after the restaurant suffered significant damage as a result of a truck crashing through the restaurant entry and bar area. The "new" Boonies features a renovated dining room, expanded bar area, and a creative new menu!
John Knorr thanked the returning customers and many elected officials in attendance, " this day was a long time coming and we are so proud the welcome the community back to Boonies".
SACC President/CEO Bill Chambers thanked the Knorr's for saving jobs, contributing to the community, and " helping the commercial tax base grow in Wicomico County."
Boonies is located at 21438 Nanticoke Road, Tyaskin, MD 21865. Boonies opens Wednesday through Friday at 4PM and on weekends at 12:00 PM. Be sure to check out the new menu and daily specials on Facebook.