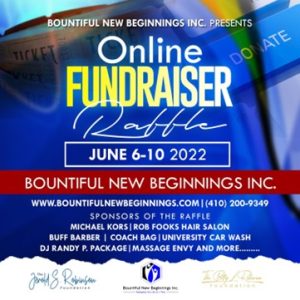 Bountiful New Beginnings Inc. will be hosting its very first Online Fundraiser to raise funds for their 501(c)(3) non profit.  Tickets are 3/$10.00 and you can enter as many times you like.
The Raffle will take place on the BNB Inc. website each day.
Bountiful New Beginnings provides Educational Programs, Rental Assistance, Emergency Food & Clothing, Workshops and Community Resources for Assistance & Support Service projects targeting the Homeless Communities, Low Income, Youth, Veterans and Families.  Bountiful New Beginnings aim to re-stabilize and restore individuals and families so they can thrive and become self-sufficient.  All services are FREE of charge.
BNB Inc. is seeking to also find a building to host all of the free programs offered to the surrounding communities.
If you would like to donate to this wonderful organization, please visit:
Visit the website:
www.BountifulNewBeginnings.com
or you can reach out to Tasha Robinson, Executive Director | 410-200-9349