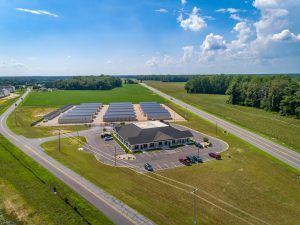 Millsboro, DE – SVN | Miller Commercial Real Estate Senior Advisors, Meredith Mears and John McClellan recently worked together representing a client who had developed a 314 unit self storage facility in Millsboro, Delaware. This property also included a newly constructed office building that was fully leased.
Mears and McClellan enlisted the assistance of the National Self Storage Product Council Co-Chair Connie Neville and Hans Hardsity who helped broadcast the message of this exciting new opportunity across the country. This collaboration helped Mears and McClellan reach even more qualified buyers looking to acquire self-storage opportunities in a timely manner. They received multiple offers, vetted prospects, and they were able to come to agreeable deal terms with an investment group very experienced in the self-storage arena.
"It was truly our pleasure to represent the seller and work in conjunction with Connie and Hans through this difficult transaction with many moving parts. Between the lease up of the storage units, and solidifying office leases, our team was able to overcome obstacles and barriers, adding value and creating upside for the new owners." Said Mears and McClellan.
"One of the most exciting parts of our jobs as commercial real estate Advisors is getting to help our clients with assets in all different classes. While my team considers ourselves first and foremost industrial and office specialists, we are able to help clients transact, evaluate, and analyze properties in retail, hospitality, and land categories as well. In this exciting transaction, we were able to assist a client in the disposition of a brand-new self-storage complex with adjacent fully leased office building." Said John McClellan.
The seller said, "Merry and John did a fantastic job of facilitating this transaction. It did not come without its challenges and Merry and John faced every hurdle head on, doing what ever it took to get us to the next step. Their attention to detail and dedication to the deal was second to none!"
If you would like to meet with Meredith Mears or John McClellan, call the office at 410.543.2440 or email Meredith.mears@svn.com or john.mcclellan@svn.com.