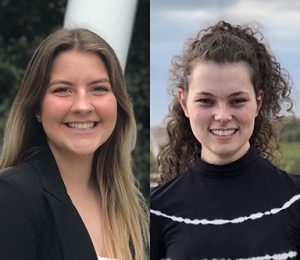 SALISBURY, MD—Two Salisbury University students were named recipients of the Barry Goldwater Scholarship, the preeminent undergraduate academic award in the fields of natural sciences, engineering and mathematics.
     Anna Brennan of California, MD, and Jessica Pierce of Silver Spring, MD, are the first SU students to earn the honor in its history of more than 30 years.
     Nearly 400 students, from an applicant pool of more than 5,000 sophomores and juniors, were awarded scholarships of up to $7,500 per year to assist in their pursuit of degrees and research.
     "Being selected among thousands of applicants and joining a community of scholars who are aiming to change the world through the fields of science and technology is extremely rewarding," said Brennan, a biology and interdisciplinary studies major, focusing on neuroscience. "Winning the Goldwater also allows me to focus more on my school and research instead of working multiple jobs."
     Brennan and Pierce are among the many recipients who have published their research in leading journals and have shared their work at professional society conferences. Pierce has presented her research focusing on the integrity of the optic nerve in hyperglycemic zebrafish, following a nitroductase model. Brennan has shared her work at the SU Student Research Conference and has plans to present nationally. She is a research assistant in the Laboratory for Human Performance with Dr. Scott Mazzetti.
     This is the first year that the Goldwater has been awarded based on the students' specific fields of study, demonstrating Brennan and Pierce as outstanding students within their academic areas.
"The opportunity to be a Goldwater Scholar has enabled me to become a part of a community of undergraduate scholars with a shared passion for scientific research," said Pierce, who is majoring in biology and psychology.
The Barry Goldwater Scholarship and Excellence in Education Foundation was established by Congress in 1986 to serve as a living memorial to honor the lifetime work of Senator Barry Goldwater, who served his country for 56 years as a soldier and statesman, including three decades in the U.S. Senate.
     "The Goldwater not only gives them money to help with their SU expenses for next year, but also opens doors with graduate school contacts and the prestige of the award makes them more likely to be strongly considered for the Fulbright Award and other awards in the future," said Dr. Kristen Walton, director of SU's National Competitive Fellowship Office.
     Students interested in the Goldwater should contact Dr. Matt Bailey, SU's Goldwater Scholarship advisor, at mabailey@salisbury.edu or Walton at kpwalton@salisbury.edu.
     For more information call 410-543-6030 or visit the SU website at www.salisbury.edu.