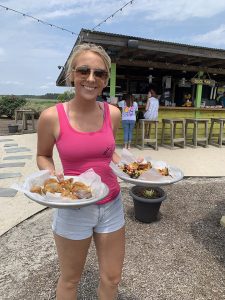 By Cathy Diekmann
Need to get away or at least pretend you are on vacation? Look no further than Bull Lips Dock Bar in Whitehaven, Maryland. Make the short drive from Salisbury to the Red Roost Restaurant and catch the five-minute shuttle to this waterfront gem. You can also arrive by boat. There is plenty of room to tie up at their 500-foot dock.
On May 28, 2021, Bull Lips Dock Bar celebrated the beginning of their 2021 season with a ribbon cutting that included Salisbury Area Chamber of Commerce members, Bull Lips regulars, and many elected officials.
The event was like a mini vacay as guests soaked up the sun (or avoided it under broad umbrellas shading picnic tables) and enjoyed the gorgeous view at the confluence of the Wicomico River and the Ellis Bay Wildlife Area.  Adirondack chairs and hammock swings   beckoned people to get comfy, slow down, and enjoy the day.
At the bar, Chris poured favorite Evo beers and mixed ice-cold crushes. Our server, Alyssa, offered delectable crab cake sandwiches, tasty jerk chicken tacos, and other light bites.
Complications and concerns related to the COVID-19 pandemic made 2020 a difficult year for many businesses, especially those in the restaurant and hospitality industry. Opening ahead of Memorial Day and at full capacity is a big deal for owners John, Jasmine and Tommy Knorr and the staff at both Bull Lips and The Red Roost.
"We are so thankful that we can be open so people can come out here and have fun," gushed General Manager Kelly Carpenter. She added, "Our employees are relieved that they have a job and can make good money."
As the event wrapped up, Maryland Senator Addie Eckhardt noted "They (Bull Lips) have a creative concept here, and that doesn't always fit with others' understanding…We will continue to stand by our local businesses and plead their case when needed."
Delegate Chris Adam's offered a toast that praised the Knorrs for their tenacity and persistence. "It's going to be a great season."
Bull Lips is open on Fridays at 4:00 PM, Saturdays and Sundays at 12:00 Noon. For more info check out https://www.facebook.com/bulllipsdockbar