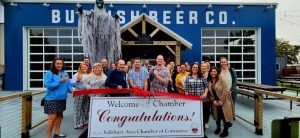 A lucky group of 40+ SACC members gathered on October 25th at Burnish Beer Company for the official SACC ribbon cutting and to join them in celebrating their 1st year anniversary!
Guests were welcomed by co-owners Mathew Shockley and Taylor Wade.  Mathew, was very enthusiastic about sharing with us that "Burnish has been a great journey for us!  It all started in March 2019 when Randy Mills, my brother-in-law asked me if I wanted to start a brewery with him, and then along the way we met Taylor Wade and Alex Fisher.  When we started renovating this building it was nuts.  It took a lot of blood, sweat and tears, but we have been very fortunate to have the support of the local community and are here now celebrating our first-year anniversary.   We are still building, expanding, and striving every day to make this a better place through our beers and our food offerings (new menu was launched last week).   We keep expanding outdoors, and we are currently finishing building our very nice Beer Garden bar.
Salisbury native owners Randy Mills, Taylor Wade, Alex Fisher, and Mathew Shockley converted a 40 year old – 8,000 square-foot space, which was formally part of an old boat factory known as the Bayliner Building on the North side of Salisbury, into a brewery with an expansive indoor restaurant and tasting room… and Burnish Beer was born!
The indoor taproom accommodates 150 guests. The outdoor beer garden is over 5,000 sq feet and accommodates over 200 guests and offers polished wood picnic tables, an outdoor bar, a firepit, and games such as cornhole.   Burnish Beer also welcomes pets to the outdoor beer garden!
Providing more than just locally brewed craft beers as well as wine and hand-crafted cocktails available to satisfy all taste buds.  The menu includes appetizers, salads, super yummy wings, wood-fired Neapolitan style pizza pies, a variety of handhelds tacos, and indulging desserts such as the Liege-style Belgian waffles.  Weekly specials available Monday-Thursday.
Appetizers included their famous fries and make your own pulled pork tacos.  Guests were also treated to a variety of Burnish Co. beers and wine.   Three lucky members won a basket with swag items and gift cards from Burnish.
For more information visit www.burnishbeerco.com, call 443-366-4409, or stop by 2305 Northwood Drive, Salisbury.