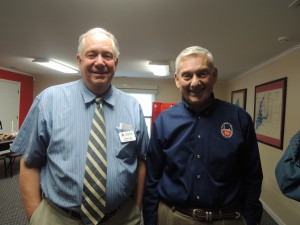 The Lower Shore Chapter of the American Red Cross held a Business After Hours on March 20th. The scope of services the Red Cross provides is quite diverse.  Did you know that they teach classes in babysitting or that they provide emergency assistance for victims of house fires or teach swim lessons?  American Red Cross provides Disaster and Biomedical Services, Health and Safety Services, International and Armed Forces Emergency Services along with providing assistance to those of us locally. Executive Director John Culp spoke to Chamber members about the local Red Cross' service to the community.

John Culp, Executive Director of the Lower Shore Chapter of the Red Cross and SACC CEO Ernie Colburn


Buddy Brooks of the Salisbury Moose Lodge and M.J Caldwell of Caldwell & Whitehead, P.A.


Dave Wharton of Cakes By David, Tony Nichols of BBSI and Erica Joseph of the Community Foundation


Suzanne Murray of the Blood Bank and Clay Tarpley of Salisbury Neighborhood Housing


Dan Fletcher of Delmarva Promotional Products and Beth Hebert of Beth Creates