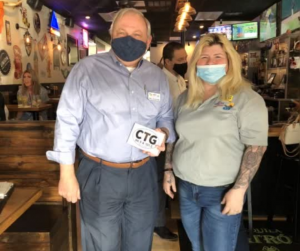 By Cathy Diekmann
Relationships are key to a healthy personal life. They offer support and caring, add vitality and even help manage stress. Relationships are similarly important to your professional life. From a business standpoint, relationships can help you obtain new customers, retain current customers, manage your reputation, and grow a diverse network that makes your business thrive.
The Salisbury Area Chamber of Commerce (SACC) is the voice for business on the Eastern Shore and a great resource for business connections, advocacy, and education. Business connections made through the SACC can result in synergistic outcomes that benefit a wide circle of people and businesses.
GSB Media and Salisbury Pit & Pub co-hosted a SACC Business After Hours on April 8, 2021 at Salisbury Pit & Pub. Nearly 70 business professionals participated, wearing face masks, and abiding by COVID-19 safety precautions. They were hungry for more than just (very tasty!) barbeque. They were hungry for positive business connections, news, and opportunities.
GSB Media is the home of WOW That's Country 99.3 & 101.5, WCTG Variety 96.5, and Bay Country Radio 97.9. During the evening's program, GSB Sales Manager Mike Szczechura explained that radio is wildly successful when it is local and relevant for the listeners.  "That's why we offer live, local DJ's, not syndicated programs streaming from some other city," Szczechura added. "We like to engage our listeners with cash prizes, music they want to hear, and share local news updates. That's not just good for listeners, but advertisers too."
Salisbury Pit & Pub catered the event with a spread of favorite menu options including house-smoked pork, homemade coleslaw, and a uniquely flavored barbeque pizza. Co-owner Stephen Masten greeted guests and thanked all who helped them get through the toughest months of the COVID-19 lock-down. "It's been pretty devastating for the restaurant industry; we're still trying to make our way back. We really appreciate our customers. They are why we do what we do to the best of our ability."
Masten, a Salisbury University graduate, stayed in the area and opened  Pit & Pub with co-owner David Knestout. "We wanted to create a pub like (the TV show) Cheer's, where everyone knows your name, your favorite drink, and cares about you like a friend."
Do you want to upgrade or expand your network of business relationships? Join the Salisbury of Commerce to gain that and much more! Contact Cathy Diekmann, Director of Membership Services, cdiekmann@salisburyarea.com or call 410-749-0144 option 1 for membership.