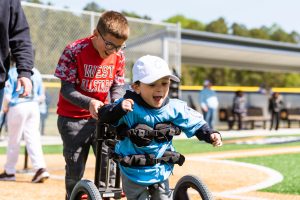 SALISBURY, MD – Field 7 ½ was filled with cheers and excitement Saturday as the Little League Challenger Division kicked off its second season on Opening Day.
Programs like this received additional support recently when three businesses combined for $3,000 in total donations to Project 7 ½. The Project 7 ½ initiative includes Field 7 ½, the Donnie Williams Inclusive Playground and sensory pods. Field 7 ½ is an inclusive field that was designed to provide individuals with physical or mental disabilities the opportunity to play baseball.
At the Good Sports Awards in February, Brian Lewis, sales associate for Cunningham Recreation and owner of East Coast Recreation Services, LLC, was honored with the Community Impact Award, sponsored by Mountaire Farms Inc. The award included a $1,000 donation from Mountaire Farms to the nonprofit of the winner's choice, and Lewis chose for the donation to go to Project 7 ½.
Lewis' company installed the bleachers, dugouts and shade canopies for Field 7 1/2, and also designed and constructed the inclusive playground and sensory pods.
Cunningham Recreation and GameTime each matched Mountaire's donation, for a total of $3,000 going toward the initiative.
Lewis praised the opportunities that Project 7 ½ provides to community members and visitors.
"Now, our children, athletes and families that may have special needs have a place where they can truly feel welcome and enjoy," he said. "From accessible routes of travel, to playing surfaces that can be navigated with mobility devices, ample parking, great staff, quality field care and an overall great location to play sports, recreate and practice healthy activities outdoors."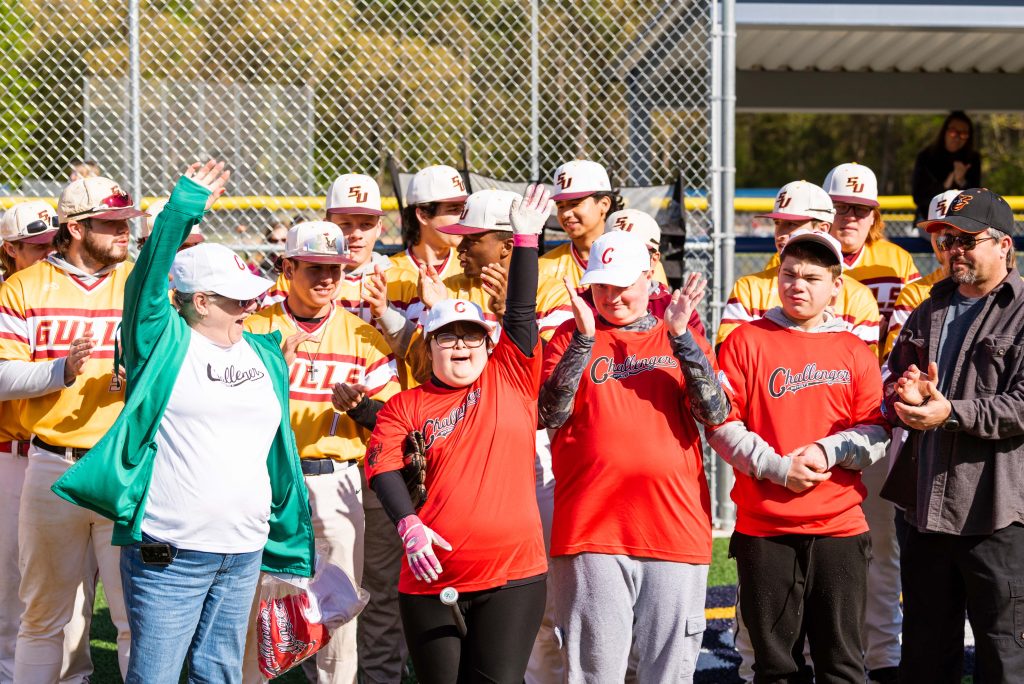 Cunningham Recreation President Scott Cunningham said his company's philosophy is to support the communities that employees live in and do business with.
"I feel it is important to have a local presence, and truly believe in the positive impact parks and recreation make on communities as well as furthering inclusion in outdoor play and fitness for people of all ages and abilities," Cunningham said. "Over the last few years, we have also tried to take an interest in and support causes and initiatives that are of interest to our employees."
Mountaire Farms has supported the community in numerous ways over the years, and Wicomico County was pleased to have the company on board as a sponsor for the 2022 Good Sports Awards.
"We were excited to hear of Brian's award and we are proud to offer a donation on his behalf," said Zach Evans, community relations manager for Mountaire Farms. "We are honored to be a part of his support of the Challenger Little League, which helps create an accessible environment of recreation for our youth."
Acting Wicomico County Executive John Psota praised the companies that came together to benefit this project.
"It is such a delight to see the Challenger players out on Field 7 1/2, enjoying the game of baseball," Psota said. "Thank you to Brian Lewis for your work on this project and for choosing Project 7 ½ as the recipient of this donation. I would also like to thank Mountaire Farms, Cunningham Recreation and GameTime for your generous support of this initiative."