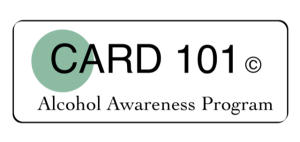 CARD 101© is delighted to join the Salisbury Area Chamber of Commerce to provide its services to the area's bars, restaurants, liquor stores and off-premise sale of alcohol.
CARD 101©  Is equally proud to introduce the ultimate ban list for bars and restaurants' active night scene.  The BISU ID scanner flags IDs in real time to notify any establishment in its private network of an issue when an ID is scanned again anywhere else. BiSU ID Scanner is the most effective way to stay in communication and alert fellow owners of persons who threatened the safety and atmosphere of your establishments and customers.  BISU ID scanner uses Accurate ID Technology  to also provide efficient response and alert not only with flagged IDs but also identifies Underage, expired, and fake ID's.  BiSU ID Scanner was created, developed, and executed on the Eastern Shore by individuals with over 20 years of knowledge and experience handling nite life on the shore!!!
Check out Ocean City's news article on BiSU ID Scanner:
https://www.oceancity.com/coastal-crackdown-the-battle-against-fake-ids/
Card 101© is Maryland's top-rated alcohol awareness course.  Certified and registered by the State of Maryland, this program is recognized by the Board of License Commissioners for each county in Maryland.
The three-course program, meets the requirements of the alcohol awareness training law under article 2B. Local seminars are available to meet your needs.  We provide certificates for successful completion of the seminar.   CARD 101© is the perfect introductory level alcohol awareness course, and lays out basic information on educating bar and restaurant staff on serving alcohol responsibly for the service industry.  CARD 201© is designed for liquor stores and off-premise sales and it also brings knowledge of ID checking to another level for beer, wine and liquor stores. Card 301© is designed for the 'Night Time' staff of busy bars and restaurants and delivers basic doorman training for any bar's active nightlife.
ID checking (carding) and reducing incidents of binge and underage drinking to minors has become increasingly important. CARD 101 created and developed the SIRV and does it 'PASS' techniques specially designed for this industry to bring the most up to date information to employees.
If you have any questions or need additional information about pricing and services, please contact Eric Chaplin at eric@bisuidscanner.com, card101program@gmail.com, www.card101.biz, or 443-856-8651.