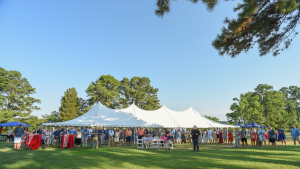 Salisbury, MD – July 2021 – It was certainly a day to remember as two hundred guests gathered on Friday, July 16, 2021, at Green Hill Country Club in Quantico, Maryland to mark a momentous event – the 101st anniversary of the Salisbury Area Chamber of Commerce.
President/CEO Bill Chambers welcomed guests to the Centennial Party on the Wicomico recognizing the generous sponsors, past Chamber Board Presidents and Board Chairs, Senator Chris Van Hollen, and other local and state elected leaders who came out to celebrate.
Guests savored local flavors including Honest Oysters raw bar, a shrimp boil prepared by The Red Roost, cold craft beers from Evolution Craft Brewery, as well as premium bars and a buffet of other assorted dishes while enjoying Carey Ziegler's Expensive Hobby, an eight-piece band performing hits from the 70's, 80's, 80's and 90's.
The occasion provided a rare opportunity to gather sixteen Past Chamber Board Presidents and Board Chairs on the banks of the Wicomico River for a commemorative photo.
Presentation of the prestigious Salisbury Award was also included in the festivities. Three entities all celebrating their respective 100 years in the region were recognized.  Salisbury Award Committee members Stephanie Willey, John McClellan, and Mat Tilghman presented awards to the Rotary Club of Salisbury, Perdue Farms, and the Salisbury Area Chamber of Commerce.
The SACC thanked the following sponsors for their generous support: Presenting Sponsor, The Ross; Centennial Sponsor, Pohanka of Salisbury; Premium Bar Sponsors, WBOC Delmarva's News Leader and WRDE; Shrimp Boil Sponsors, Bank of Delmarva, PennTex Ventures, LLC, and Perdue Farms; Raw Bar Sponsors, Community Foundation of the Eastern Shore, Hebron Savings Bank, Safford of Salisbury, Salisbury University, and TidalHealth; Entertainment Sponsors, Avery Hall Insurance, BBSI, Chesapeake Utilities, Delmarva Veteran Builders, Evolution Craft Brewing Co., Gillis Gilkerson, Kuhn's Jewelers, Provident State Bank, Phillips Seafood, Tactical American Security Consulting, LLC (USTASC), and Veronica James, REALTOR, ERA Martin Associates; Supporting Sponsors, Landmark Insurance and Financial Group, NAI Coastal , PKS & Company, P.A., and Salisbury Wicomico Economic Development; and Promotional Sponsor, Minuteman Press Salisbury.
The SACC also extended special thanks to the sponsorship committee led by past Board Chair Karri Todd, past Chamber Board Presidents Sandy Fitzgerald-Angello, Stephanie Willey, Tony Nichols, and John McClellan; volunteers Melissa Geeslin, Michelle Lowe, Ryan Bass of the Chamber Ambassador Committee; Susan Parker for writing the historical timeline, and Todd Dudek for photographing the event.