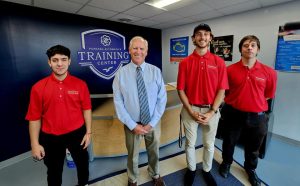 The Salisbury Area Chamber of Commerce's September Business After Hours was hosted on September 8. 2022, by Pohanka Automotive Group and the Pohanka Automotive Training Center. Pohanka Automotive has been a member and strong supporter of the SACC since September 2000, as well as a generous supporter of our local community.
Pohanka Automotive Group of Salisbury is pleased to announce a new training program through their new Pohanka Automotive Training Center (PATC.) Head Instructor David White joined Pohanka Automotive Group in 2018 as a trainer/consultant for their technicians.
David was thrilled to steer this new program with over 45 years of experience in the automotive technician field and 35 years of teaching experience at Parkside High School and Wor-Wic Community College.
David welcomed our guests and shared, "We are facing a shortage of employees. Rather than wait for employees to walk in our doors at Pohanka, we decided to grow our own in this amazing new facility. Having taught in the school system for over 35 years, I have seen a change in the culture. Growing your own is what is going to take for businesspeople to get new and maintain skilled new employees."
"When asked to lead this project, I couldn't believe it had happened. It's been my lifelong dream to create a post-secondary experience. I taught high school in Salisbury for many years, and such programs were unavailable locally. The program is a unique opportunity for our students to get top-notch, on hands training that prepares them for a career in the automotive technician trades."
The program was designed to develop and maintain a workforce of trained and competent technicians. During the two-year program, students will take and pass multiple ASE exams in addition to the required company and manufacturer's online training modules.
The course will have a maximum of 14 students over 84 weeks that will consist of six eight-week courses that will be taught utilizing a ratio of approximately 50% in class time and 50% of hands-on shop training.
Students will alternate with 8 weeks of in person class, Monday through Thursday and eight weeks of paid dealership internships. Students will also do paid internships on Fridays and Saturdays. During the eight-week dealership internship period another class of 14 students will begin instruction, bringing total enrollment in the program to 28 students. Students may also elect to take a seventh course, which would prepare them for the Maryland State Inspection License certification.
Students during the two-year program will acquire the knowledge and skills necessary to gain employment at one of the Pohanka Dealerships.
Instruction is provided in automotive brake systems, steering suspension and wheel alignment, engine mechanical and performance systems, heating and air conditioning systems, vehicle electrical and electronic systems and transmissions, safety, communication skills, and work ethics.
Something unique about PATC is that Pohanka offers a program that allows students to attend the academy free of charge, assuming that the student meets all the requirements and obligations of the program.
Students that stay employed at Pohanka for three years after completing the program may keep their toolbox (worth $1,500) and their laptop.
Over 60 guests enjoy a wonderful afternoon of networking at the PATC, savoring light fare provided by chamber member Green Hill Country Club.
Door prizes included two fall baskets and a vehicle detailing package worth $150.00. Shawn Jester won the 50/50 Raffle supporting the SACC Foundation Wor-Wick Scholarship Fund.
For more information about the Pohanka Automotive Training Program, contact David White, PATC, at 2010 N. Salisbury Blvd, Salisbury MD 21801, or call 443-338-6973.