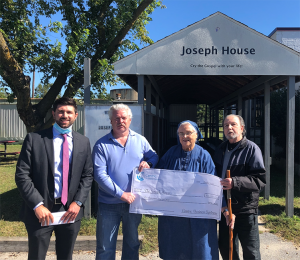 OWINGS MILLS, MD, December 11, 2020 – Centric Business Systems donates $5,000 to The Joseph House in support of their COVID-19 response.
Centric is committed to giving back to the communities we serve. In light of COVID-19, we have embarked on a mission to support organizations that are directly aiding those individuals impacted by the pandemic and making a difference in their lives.  This donation will aid the Joseph House in the continued purchase of food and other necessities in this extraordinary time of need.
"Centric is grateful and honored to be in a position where we can contribute to the health and well-being of our neighbors." said Rick Bastinelli, President, Centric Business Systems. "We also want to take a moment to thank all the employees and volunteers who are currently on the front lines, working to meet the basic needs of our most vulnerable community members."
About Centric
For 30 years, Centric has been giving organizations powerful document management solutions that improve productivity and save money. From managed print services and production print solutions to multi-function hardware and wide-format printers, Centric is committed to delivering reliable document technology that makes businesses better. The only locally owned document management company serving the entire mid-Atlantic region, Centric has earned its reputation for outstanding solutions, unparalleled support, and reliable service. For more information visit www.centricbiz.com.