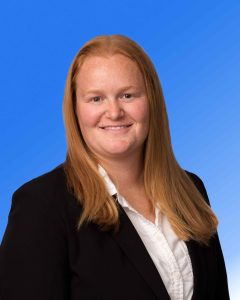 Millsboro, DE — CFS, Inc. (Comprehensive Financial Solutions) announces Investment Advisor Representative Liz Brittingham, obtained her CFP® certification. The CFP® certification is awarded to individuals who meet the CFP® Board's stringent requirements. The CFP® exam measures the candidate's critical thinking and problem-solving ability and assesses the candidate's ability to apply financial planning knowledge in an integrated approach to real-life financial planning situations.
Liz Brittingham, CFP®, joined the firm 6 years ago and learned many facets of the business, including investment strategy and taxes. Working alongside President J.D. Schroen in the firm's joint business, 'CFS Tax Solutions', her knowledge of navigating taxes in retirement proves invaluable to her clients.
Vice President and Partner, Michael Sise, CFP®, ChFC®, CPFA®, AIF®, CRPC®, expressed "We are excited to see Liz achieve this major certification, which without a doubt shows GREAT commitment to her career and clients. Liz has grown leaps and bounds over the years and we can't wait to watch her continue on an upward path in this industry."
Liz enjoys being on the water and traveling. A former Captain on a private charter boat, Liz switched career paths to follow in her father's footsteps as a Financial Advisor. Her father is a founding partner at CFS, and the firm is delighted to have her commitment to the continued success of CFS.
At Comprehensive Financial Solutions (CFS) we have assembled a Team of experienced, highly qualified professionals who have been helping families pursue their financial goals for over 35 years. Securities and advisory services are offered through Cetera Advisors LLC, member FINRA/SIPC, a broker/dealer and registered investment adviser. Cetera is under separate ownership from any other named entity.