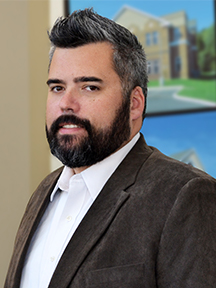 Becker Morgan Group's landscape architect, Chad D. Carter, RLA, ASLA was appointed by Delaware Governor, John Carney, to the Delaware State Board of Landscape Architecture. This board is tasked with protecting the public from unsafe practice, maintaining a competitive business environment, and upholding standards of professional competence and service delivery. Chad's appointment balances the board with one member residing in each of Delaware's three counties.
Chad commented on his appointment, "I am honored to utilize my professional skills to serve the State of Delaware and promote the landscape architecture industry." Chad has 12 years of landscape architecture experience and has been a licensed landscape architect in the State of Delaware since 2012. He has a Bachelor of Science in Landscape Architecture from West Virginia University and has spent the last two years with Becker Morgan Group. In addition to his appointment to the State Board of Landscape Architecture, Chad is also a member of the American Society of Landscape Architects and previously served on the City of Milford's Board of Adjustment.
Becker Morgan Group provides comprehensive Architecture & Engineering services with offices in Delaware, Maryland, and North Carolina. For more information, visit www.beckermorgan.com.