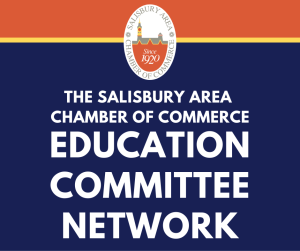 Episode #4 of the Salisbury Area Chamber of Commerce – Education Committee Network's PAC-14 TV Show entitled "EDUCATION IS EVERYBODY'S BUSINESS" is NOW on PAC-14 AND YouTube for public viewing. The educational topic addressed is "Reading and Math: Two (2) Critical Life Skills". This bi-monthly TV Show is designed to be a source of community awareness and knowledge of topics that impact Education and Workforce Development here on the Lower Eastern Shore.
This episode features three (3) Literacy Resources that are currently available to families (adults and children) who want to acquire reading and math/financial literacy skills. The three presenters on this episode are: Mr. Seth Hershberger, Executive Director of the Wicomico County Public Libraries; Ms. Jayme Hayes, President and Chief Experiential Officer for Junior Achievement (JA) of the Eastern Shore; and Dr. Brian Flores, Director of the May Literacy Center in the Seidel School of Education at Salisbury University. The public is encouraged to tune in and access this PAC-14 broadcast on YouTube.
SPRING EDUCATION ANNOUNCEMENTS AND OPPORTUNITIES:
Wor-Wic Community College: The public is invited to attend the ribbon-cutting on the new Patricia and Alan Guerrieri Technology Center on Thursday, April 20, at 2 p.m. Members of the public are welcome to tour the new building, which is located on the south side of the campus. The 50,000 square-foot structure will support the college's occupational education division, with an emphasis on applied and emerging technologies such as alternative energy, electrical, electro-mechanical technologies, HVACR and welding, as well as workforce development courses in the areas of transportation, trades and manufacturing. The building will also include a makerspace multipurpose laboratory where students and community members can gather to create, invent and learn.
Visit the events section of www.worwic.edu for more information.
University of Maryland Eastern Shore: The public is invited to attend the ribbon-cutting and Grand Opening of the new UMES Pharmacy and Health Professions Building on Friday, April 28 from 11:00 am – 12 noon. Special Guests will be in attendance.
Wicomico County Public Schools: The Salisbury Area Chamber of Commerce and the Wicomico County Board of Education will sponsor the 2023 State of the Schools Luncheon Address on Tuesday, April 25, at 11:30 am at the Wicomico Youth and Civic Center. Superintendent Dr. Micah Stauffer will speak on the Blueprint for Maryland's Future Implementation Plan.