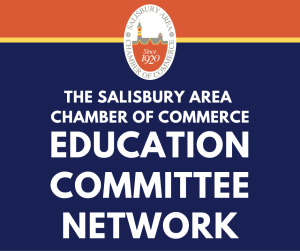 The Salisbury Area Chamber of Commerce – Education Committee Network aired Episode 2 of its PAC-14 TV Show "EDUCATION IS EVERYBODY'S BUSINESS" . Hosted by Dr. Ladd Colston of Sustainable-Visions and sponsored by the Community Foundation of the Eastern Shore, the November broadcast features four (4) presenters on the topic – "Career and Technical Education: Training Opportunities here on the Shore". Anyone interested in viewing this broadcast can now go to YouTube PAC-14. Episode 3 will air in January and feature the topic "What is Quality Childcare and Where can we find it?".
CONGRATULATIONS to Our NEWLY ELECTED Wicomico County School Board Members
The Education Committee Network would like to recognize Mr. Allen C. Brown (District 1), Mr. Gene Malone (District 2), Ms. Susan Beauchamp (District 3), Mr. David Plotts (District 4), Mr. John Palmer (District 5), Ms. Bonnie H. Ennis (At-Large), and Ms. Kristin N. Hazel (At-Large) as our newly elected Wicomico County School Board. We look forward to working with you to positively impact Education and Workforce Development in our Lower Eastern Shore communities.
Junior Achievement Seeks Classroom Volunteers
Junior Achievement has a great need for classroom volunteers this fall and spring. This school year, classroom volunteers will have the opportunity to engage with 3rd and 4th grade students to help inspire them for their future. To learn more about volunteering or to sign up for a specific school or class, visit JA's website at https://engage.ja.org/?site=easternshore or email shelby.lewis@ja.org. Junior Achievement's mission is to inspire and prepare young people to succeed. The inspiration piece comes from community volunteers who not only deliver our lessons but share their experiences. In the process, these volunteers serve as roles helping to positively impact young people's perceptions about the importance of education, as well as critical life skills.
Wor-Wic Community College Holds Information Sessions
Wor-Wic Community College in Salisbury will hold information sessions about how to apply and enroll on Wednesday, Jan. 4 at 3 p.m., and Thursday, Jan. 5 at 10 a.m., in room 308 of Fulton-Owen Hall. The events will include tours of the campus. Visit the events section of www.worwic.edu for more information or to register.