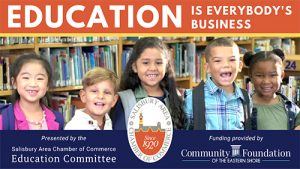 Salisbury Independent Newspaper
Chamber Education Network: "NEWS OUR COMMUNITY CAN USE" (NOVEMBER 2022)
The Salisbury Area Chamber's Education Committee Network (EN)
The Salisbury Area Chamber of Commerce – Education Committee Network has aired Episode 2 of its PAC-14 TV Show "EDUCATION IS EVERYBODY'S BUSINESS" . Hosted by Dr. Ladd Colston of Sustainable-Visions, LLC and sponsored by the Community Foundation of the Eastern Shore, this month's November 2022 broadcast features four (4) local organizational representatives on the topic – "Career and Technical Education: Training Opportunities here on the Shore". Featured are Mr. Bryan Ashby of Wicomico County Public Schools, Dr. Deidra Johnson of Wor-Wic Community College, Mr. Dave White of the Pohanka Automotive Training Center, and Dr. Robert Mock of the University of Maryland Eastern Shore (UMES). Anyone interested in viewing this broadcast can also go online or view it on YouTube.
HOT TOPIC: Finding Quality Childcare
Members of the Education Committee Network have expressed an increasing demand for quality childcare in our county. Many of our local educational institutions have found that the lack of supply has even impacted on their recruiting and retaining  teachers and instructional staff.   Present at the meeting was Ms. Leslie Sinclair, Director of the Eastern Shore Child Care Resource Center at Salisbury University.  She was able to share some of the concerns that members expressed as well as the critical importance of quality childcare in the Blueprint Legislation that is impacting all educational institutions in the State of Maryland.
FALL EDUCATION ANNOUNCEMENTS AND OPPORTUNITIES:
The Wicomico Day School is sponsoring their 5th Annual Holiday Bazaar on Saturday, November 19, 2022, from 10 AM – 2 PM at 1315 Old Ocean City Road in Salisbury, MD.
 The University of Maryland Eastern Shore is celebrating "HAWKMANIA" – their HOMECOMING WEEK from Monday November 6 through Sunday, November 13, 2022. Go to www.umes.edu/homecoming for a schedule of activities.