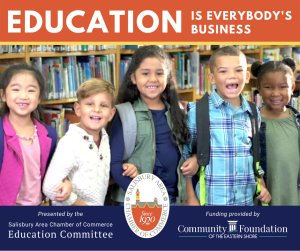 SALISBURY INDEPENDENT NEWSPAPER
CHAMBER EDUCATION NETWORK: "NEWS OUR COMMUNITY CAN USE" (OCTOBER 2022)
The Salisbury Area Chamber's Education Committee Network (EN)
The Salisbury Area Chamber of Commerce – Education Committee Network aired Episode 1 of its PAC-14 TV Show "EDUCATION IS EVERYBODY'S BUSINESS" . Hosted by Dr. Ladd Colston of Sustainable-Visions and sponsored by the Community Foundation of the Eastern Shore, the September broadcast featured three (3) local experts on the topic – "We have a Mental Health Crisis". Anyone interested in viewing this broadcast can now go to YouTube PAC-14. Episode 2 will air in November and feature the topic "Career and Technical Education: Local Training Opportunities".
WELCOME to Our NEW Education Committee Co-Chairs
Dr. Laurie Henry, Dean of the Salisbury University Seidel School of Education and Dr. Frederick Briggs, Chief Academic Officer and Assistant Superintendent for Instruction of the Wicomico County Public Schools will begin co-leadership of the committee effective October 2022. After over three years of chairing the Education Committee, Dr. Ladd Colston will step down and remain an active member hosting the SACC-EN PAC-14 TV Show.
HOT TOPIC: County Elections and Voter Turnout
Due to the critical importance of the upcoming county elections and some of the confusion that some committee members have experienced in voting, a brief discussion was initiated amongst those in attendance. Present at the meeting was Ms. Dionne Church, Executive Director for the Wicomico County Board of Elections. She was able to articulate many of the Do's and Don'ts that have been observed in voting and the availability of Voter Education by the Board of Education to interested community groups and organizations if requested. Committee members cited the importance of Voter Turnout and what districts have the lowest and highest which have historically impacted candidate selection.
New Library Resource on Wheels
The Wicomico County Public Libraries now has a State of the Art "High Tech" Mobile Learning Lab that is currently available and accessible to our Wicomico County children, families, and citizens. Committee members took an inside tour and were totally impressed by the computers, 3-D technology and learning resources that schools and community organizations can schedule for their constituencies.
FALL EDUCATION ANNOUNCEMENTS AND OPPORTUNITIES:
Pohanka Auto Group:  Pohanka has recently opened their Pohanka Automotive Training Center (PATC). This program offers anyone over age 17 years with an 18-month free training program offering ASE Certification.
Wicomico Day School: Their 5th Annual Holiday Bazaar will be held on Saturday, November 19, 2022, from 10 AM – 2 PM. Please contact the school if you are interested is sponsoring a booth or table
Salisbury University: The Seagull Century Bike Ride will be held on Saturday, October 8, 2022.
Wor-Wic Community College: Wor-Wic will hold a Family Fun Day from 10 a.m. to 2 p.m. on Saturday, Oct. 1, on the college campus at the corner of Route 50 and Walston Switch Road. This event follows the Wor-Wic 5K Run/Walk, which kicks off at 9 a.m., but is open to the public in addition to runners and walkers. Family Fun day is free and will feature carnival rides, games, a photo booth and music. Representatives of the college will also be on hand to share information about its programs and courses.
Wor-Wic Community College is inviting the public to a free Virtual Poetry Reading with Lauren Camp on Tuesday, Oct. 4, at 7 p.m., via Zoom. Ms. Camp is the author of five books, most recently "Took House," which won the 2021 American Fiction Awards poetry prize. She was the recipient of the Dorset Prize for her book "One Hundred Hungers." Camp is an emeritus fellow of the Black Earth Institute and a 2022 astronomer-in-residence at Grand Canyon National Park.
Visit the events section of www.worwic.edu for more information.