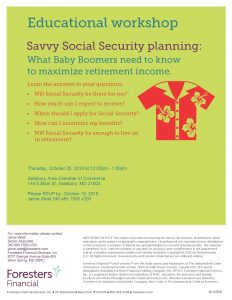 Join us for our workshop "Savvy Social Security planning: What Baby Boomers need to know to maximize retirement income." In this workshop you can learn the answers to questions such as:
• Will Social Security be there for me?
• How much can I expect to receive?
• When should I apply for Social Security?
• How can I maximize my benefits?
• Will Social Security be enough to live on
in retirement?
The event takes place Thursday, October 25, 2018 at 12:00 p.m. – 1:00 p.m. at the Salisbury Area Chamber of Commerce, 144 E Main St, Salisbury, MD 21803. It is free for Chamber members and $10 for future members. Please RSVP by: October 19, 2018. You can use this link to register.