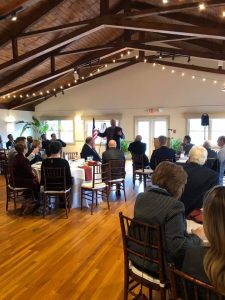 By Cathy Diekmann
The Salisbury Area Chamber of Commerce February General Membership Luncheon, at Green Hill Country Club on February 20, 2020, featured Maryland Insurance Commissioner Al Redmer.
Re-appointed by Maryland Governor Larry Hogan, Jr. in January 2019, Redmer served two previous terms as Maryland Insurance Commissioner, from June 2003 through October 2005, and from January 2015 through May 2019.
Before Redmer's remarks, the Chamber Spotlight featured Coastal Hospice and Palliative Care which is celebrating its 40th anniversary.  Coastal Hospice President, Alane Capen, noted how far the organization has come over the years.  Founded by community members who saw the need to advocate for and support the terminally ill, their first office was in the coat closet of Trinity United Methodist Church.  Today, more than 170 employees and 250 volunteers deliver care and support for over 1,300 hospice patients and their family members and another 1,300 palliative care patients each year.
At the Maryland Insurance Administration, Redmer oversees a budget of $33 million and 250 employees that regulate nearly all aspects of insurance, serving consumers of insurance products, insurance carriers and insurance producers throughout the state.  Redmer explained that assuring fair treatment of consumers is the core of their mission.  "Regulating the availability of insurance coverage at fair prices, extends to concerns about solvency, compliance, fair sales, claims and settlement prices."
Regarding their budget, Redmer asserted, "We don't spend a dime of taxpayer money. All of our funds are derived from fees that are paid by insurance producers and carriers."  He joked, "They do that out of the sheer joy for their work."
Increasing public understanding of the vital role insurance plays in the daily lives of Maryland residents and businesses is another aspect of the Maryland Insurance Administration. Insurance is the principal means of managing risks. While it is not possible to eliminate risks associated with poor health, auto accidents, home damage and other unexpected incidents, individuals and businesses may minimize its impact with appropriate insurance coverage. Redmer noted, "Of course what's 'appropriate' can vary widely among different consumers, carriers and producers."
Financial oversight of insurance carriers is also key to the Maryland Insurance Administration. Maryland law requires a financial examination of insurance carriers every five years to ensure solvency.  "It's a very thorough and deep dive into their assets, liabilities and investments to make sure they're not taking undue risk," Redmer explained.
The Maryland Insurance Administration Fraud Division identifies, investigates and prosecutes fraudulent insurance claims.  Redmer shared a number of his "favorite" stories of attempted insurance fraud for which his administration successfully prevented payouts. "We love to catch the bad guys and our folks are doing training all over the state to spot the 'tricks' of insurance fraud, so they can help us do that."
In addition to insurance regulations, the Maryland Insurance Administration also contributes to business development. For example, they work to attract new insurance carriers to Maryland, In the last five years, Maryland has added over 150 new insurance carriers and lines of coverage.  This not only provides jobs but increases competition. Said Redmer, "Competition is a good thing, it moderates prices and improves customer service.  We like that, right?"