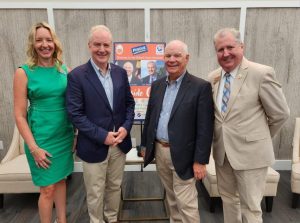 On Friday, August 18, 2023, the Salisbury Area Chamber of Commerce partnered with the Greater Ocean City Chamber of Commerce to host both of Maryland's Unites States Senators for a special "Fireside Chat" luncheon event. This special event occurred atop the 22nd floor of the Golden Sands Ocean Resort in Ocean City, Maryland.
The event was presented by Perdue, and sponsored by NASA Wallops Flight Facility, Salisbury University, Pohanka Automotive of Salisbury, and the University of Maryland Eastern Shore.
Bill Chambers, President/CEO of the Salisbury Area Chamber of Commerce, and Amy Thompson, Executive Director for the Greater Ocean City Chamber of Commerce, posed questions to the Senators during the program. Among the topics covered were the precarious financial position of the Social Security Trust Fund, offshore wind and alternate energy resources, the national debt, and specific pieces of legislation that each Senator has sponsored.
Senator Cardin shared that when addressing the nation's Social Security funding challenges, "Sustaining the fund will be challenging moving forward, but it will be done. Congress is exploring several possible future funding options."
Addressing the continually rising $31 trillion national debt, Senator Van Hollen stated, "This is a significant concern, and efforts to live within our national means must be a priority moving forward."
Both Senators agreed that energy options, including wind, are essential sources of renewable resources.
Senator Cardin stated, "We need to do more to incentivize and not politicize nuclear energy opportunities in the mix of clean energy options." Senator Van Hollen reminded the audience, "Calvert Cliffs Nuclear Plant across the Bay generates 20% of Maryland's electricity demand. But it is not an either-or regarding wind and other clean energy sources."
The Senators shared information about a few of the legislative initiatives they sponsor.
The creation of the Chesapeake National Recreation Area is something Senator Van Hollen believes will bring economic vitality to the region. "Increased tourism and many ancillary economic spinoffs are just two benefits this national designation will bring to our region."
Senator Cardin commented on his legislation to allow Medicare to begin to cover the costs of multi-cancer screenings. "As our population ages, Medicare covering the cost of these essential cancer screenings is basic common sense."
The Salisbury Area Chamber of Commerce and the Greater Ocean City Chamber of Commerce thank Senators Ben Cardin and Chris Van Hollen for addressing members at the Fireside Chat.
For information about joining the Salisbury Area Chamber of Commerce and upcoming events, visit salisburyarea.com or call 410-749-0144.