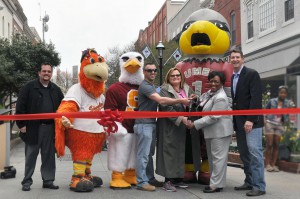 Salisbury recently celebrated the Lower Eastern Shore's collegiate and professional championship teams with the unveiling of Champions Way on Salisbury's downtown plaza.
At the ribbon-cutting ceremony, held during the Salisbury Arts & Entertainment District's monthly 3rd Friday celebration, flags were unveiled to commemorate 26 winning teams from Salisbury University, the University of Maryland Eastern Shore and the Delmarva Shorebirds, spanning from 1963-2013.
The project arose from an idea by Pastor Ryan Weaver, of Remedy Church, located on the plaza, to celebrate the region's athletic victories.
"We are so proud of the legacy of champions who have represented our community! Champions Way is a beautiful opportunity to celebrate the successes of the many students, athletes and coaches who have sacrificed much on fields and courts ….  There is no greater way to honor our champions than such a prominent place in the fabric of our beloved urban epicenter: downtown Salisbury," said Weaver.
Area leaders have hailed Champions Way as an example of the strong collaboration that exists between institutions, including the City of Salisbury, local higher educational institutions and the Shorebirds.
"I applaud efforts to solidify partnerships between community stakeholders," said SU President Janet Dudley-Eshbach. "We appreciate the opportunity to celebrate not only SU's outstanding record of athletic excellence, but those of the University of Maryland Eastern Shore and the Shorebirds.  Interestingly, all our mascots have feathers, and it seems appropriate that we flock together on Champions Way."
City Council President Jake Day agreed:  "We have so much to be proud of in this community. In this small display of collaboration and partnership we are able to celebrate the dozens of champions in our midst whose talent was tested and proven to be the best. They were Salisburians, they are Salisburians, and it brings me great pleasure to honor them in the heart of our city."
"The University of Maryland Eastern Shore has a long tradition of combining the best of academics and athletics, and we are happy to share our story of successes on the fields of play through this exciting project.  The UMES Hawks proudly take our place along Champions Way alongside the SU Sea Gulls and the Delmarva Shorebirds" UMES President Juliette B. Bell said.
"This is a great way to recognize the local teams in the community that have won championships in their respective leagues and/or sports.  The Shorebirds are proud to be a part of Salisbury's very own Champions Way," added Chris Bitters, general manager of the Shorebirds.
Each of the 26 aluminum flags on Champions Way commemorate a specific athletic victory win. They include:
 SU men's lacrosse – 1994, 1995, 1999, 2003, 2004, 2005, 2007, 2008, 2011 and 2012 NCAA championships
 SU women's lacrosse – 2010 and 2013 NCAA championships
 SU field hockey – 1986, 2003, 2004, 2005 and 2009 NCAA championships
 UMES men's outdoor track and field 1963 NCAA and NAIA championships
 UMES women's bowling 2008, 2011 and 2012 NCAA championships, and 2011 and 2013 USBC championships
Delmarva Shorebirds 1997 and 2000 South Atlantic League championships