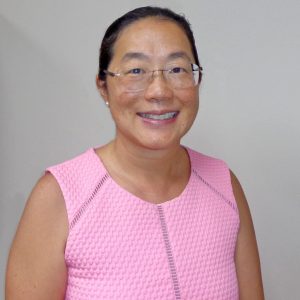 Salisbury, MD (January 4, 2020) — Chesapeake Health Care is pleased to welcome our newest Gynecologist, Dr. Sharon Liu.
Dr. Liu graduated from the Philadelphia College of Osteopathic Medicine with her medical degree in 1999. She then completed her residency at Christiana Care Health System's Department of Obstetrics and Gynecology in Newark, DE.
Dr. Liu has been in practice for more than 17 years. Before joining the Chesapeake Health Care team, she was a Gynecologist with the Anne Arundel Medical Group – Mid-Shore Women's Health in Easton, Maryland, for six years.
"I enjoy providing gynecological care to a wide range of women – from teenagers to peri-menopausal, to post-menopausal," said Dr. Liu. "Each group of women I care for has different needs. I am devoted to providing comprehensive health care to those individual women."
Dr. Liu has valued the relationships that she has built with her patients over the years. She's looking forward to bringing that same level of personalized care to women on the Lower Eastern Shore. "I'm thrilled to join Chesapeake Health Care because I can continue working in a busy GYN practice while providing much-needed, all-inclusive care to women on the Shore."
"I was drawn to Chesapeake Health Care because their mission is to provide affordable, culturally competent patient and family-centered health care, regardless of their ability to pay," said Dr. Liu. "This mission aligns perfectly with my personal beliefs."
Dr. Liu brings her board-certified knowledge and training, along with a warm, caring, and friendly personality to our patients. "We are so fortunate to have Dr. Sharon Liu join our gynecology team here at CHC," said Brian Holland, CEO of Chesapeake Health Care. "Dr. Liu is not only an expert in her field, but she is a compassionate doctor who truly enjoys caring for her patients."
Dr. Liu is married with two children, ages 17 and 15, and lives in Easton, MD. She enjoys many outdoor activities, as well as swimming, running, and gourmet cooking.
For more information and to make an appointment, please call Chesapeake Health Care's OB/GYN office in Salisbury at 410-546-2424. The office is at 1647 Woodbrooke Drive in Salisbury, Maryland. Office hours are Monday – Friday from 8:30 am – 5:00 pm, Wednesday – Friday from 8:00 am – 5:00 pm. For more information about Chesapeake Health Care and its comprehensive medical and behavioral health care services, please visit www.chesapeakehc.org.