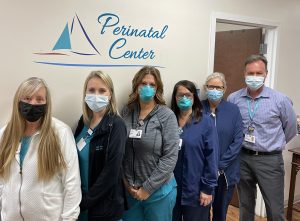 Chesapeake Health Care's Perinatal Center is the only practice on the Eastern Shore in Maryland to be awarded this coveted accreditation in four areas of ultrasound.
SALISBURY, MD — Chesapeake Health Care is proud to announce that our Perinatal Center has been awarded the prestigious ultrasound practice accreditation from the Ultrasound Practice Accreditation Council of the American Institute of Ultrasound in Medicine (AIUM).
Chesapeake Health Care's Perinatal Center achieved accreditations in the areas of adjunct detailed fetal anatomic ultrasound, obstetric-first trimester, obstetric-second trimester, and obstetric-third trimester.
"AIUM accreditation demonstrates our adherence to the highest standards of quality and safety in obstetric ultrasound," said Lee Jennings, M.D., Chief Medical Officer for Chesapeake Health Care. "We believe that quality in ultrasound is a vital component to the care of a woman and her baby. We are proud to be recognized for the excellent care we provide to our patients during their pregnancies."
Chesapeake Health Care's Perinatal Center achieved this recognition by meeting rigorous voluntary guidelines set by the diagnostic ultrasound profession. All facets of the practice were assessed, including the training and qualifications of physicians and sonographers; ultrasound equipment maintenance; documentation; storage, and record-keeping practices; policies and procedures to protect patients and staff; quality assurance methods; and the thoroughness, technical quality, and interpretation of the sonograms the practice performs.
"Our maternal-fetal medicine department is committed to providing the most advanced care to our patients, and this accreditation is proof of that," said Michael E. Lantz, FACOG, Board-Certified Maternal-Fetal Medicine Specialist. "I'm extremely proud of our team for reaching this achievement. This accreditation exemplifies our commitment to superb care for moms-to-be on the Eastern Shore."
The Perinatal Center at Chesapeake Health Care provides comprehensive maternal and newborn care, assessing high-risk patients and/or those women who may be bearing high-risk fetus, which will require a high level of specialized care – some of which are not available anywhere else on the Eastern Shore in Maryland.
Maternal-fetal medicine (MFM) is a subspecialty of obstetrics and gynecology. MFM experts are skilled in the complex treatment and care of expectant mothers and unborn babies considered at high risk. Women with a history of heart disease, hypertension, diabetes, seizure disorders, autoimmune diseases, blood clotting disorders, or infections will benefit from the expertise of an MFM doctor.