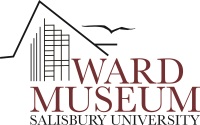 SALISBURY, MD—The Ward Museum of Wildfowl Art, Salisbury University, will host its annual Chesapeake Wildfowl Expo and Fall Festival Saturday, October 12, from 8:00 a.m. to 4:00 p.m. This festival is FREE and open to the public.
The Expo and Fall Festival is a day of friendly competition and family fun for all ages. Decoy shows and competitions have been taking place for more than a century, and have become a tradition within Eastern Shore culture. Honoring these traditions, the Museum holds its annual Chesapeake Challenge from 10:30 a.m.-4:00 p.m. in our backyard overlooking Schumaker Pond. Participating competitors in the Chesapeake Challenge must register between 8:00 – 10:30 a.m. During the challenge, working waterfowl decoys are judged in the water so their qualities and effectiveness for hunting may be evaluated.  In addition to the waterfowl decoy competition, there are separate competitions for shorebirds, woodpeckers and contemporary antique decoys.  Prior to the start of the challenge, a separate youth competition for carvers ages 17 and under takes place, with waterfowl decoys being floated and competing against one another for top honors. Be one of the many to watch as competitors from across the United States migrate to Salisbury to participate in the challenge.
Vendors will convert the museum parking lot and Legacy Center into a festive marketplace for the Buy, Sell, and Trade, which offers shoppers a diverse assortment of fine antique decoys, collectible hunting items, folk art, and outdoor memorabilia. Vendors and collectors are always excited to see what "new" treasures will be found in the marketplace. In addition, we encourage the public to bring their antique decoys for free identification and appraisals.
This year we'll also have two antique competitions. First up is the popular "Old Birds" Antique Decoy Competition. Collectors from across the region are invited to enter antique decoys (carved prior to 1950) for evaluation. This contest differs from the Chesapeake Challenge in that the decoy is no longer judged for its usefulness as a hunting tool, but is instead judged for its collectability as a decoy with historical value. This year there are 10 categories that include specific species or carvings from a specific region or carver. This competition offers the public a unique opportunity to view various collectible styles from around the country. Be there for this fan favorite event taking place from 11:30 a.m.-1:00 p.m., and please personally register Old Birds between 9:30 a.m. and 11:30 a.m.
In addition to the Old Birds competition this year, we'll also feature "Cultured Can" antique oyster can competition. Inspired by two exhibits officially opening during the Expo—War Over the Waves: Oyster Wars of the Chesapeake, and Art of the Industry: Oyster Cans of the Mid-Atlantic—collectors are invited to display a favorite antique oyster can (prior to 1970) or two from their collection. Visitors will be able to vote for their favorite, and the winning people's choice can will receive a ribbon and be on display in the "Art of the Industry" exhibit through February 16, 2020. Those interested may enter their cans between 9:30 a.m. and 11:30 a.m.
And get here early to kick it all off with an opening reception for the exhibits! From 10:00 a.m. – noon join us for a free Bloody Mary bar, juice, and savory pastries in the galleries. A bake sale will also take place throughout the day.
And don't miss a variety of exciting fall family activities and crafts available free to all ages. These include pumpkin painting and carving, carving demonstrations, outdoor games, and our first ever Quack or Treat—our Ward Museum style trunk or treat in the galleries! Bring the family in costume from 2:00 – 3:00 p.m. or until candy lasts. Or are you a local business who'd like to get in on the fun? Contact wardevents@salisbury.edu to sign up for a free table to hand out goodies to the Quack or Treaters.
Don't miss out on yet another exciting Chesapeake Wildfowl Expo and Fall Festival at the Ward Museum. Admission to the museum and event are free. For more information visit the Ward Museum website, www.wardmuseum.org, or call 410-742-4988, ext. 120.