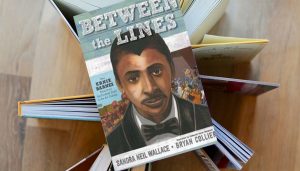 SALISBURY, MD—Salisbury University's 18th annual Children's Literature Festival brings together authors and illustrators for a day of readings and discussion 8:30 a.m.-3:30 p.m. Saturday, April 27, in the Worcester Room of the Commons.
Guest authors and illustrators include Lisa Charleyboy (#NotYourPrincess: Voices of Native American Women), Rich and Sandra Neil Wallace (First Generation: 36 Trailblazing Immigrants and Refugees Who Make America Great Again, Bloodlines), Jacqueline Alcantara (The Field), Jen Cullerton Johnson (Seeds of Change), Daria Peoples-Riley and Jess Rinker (Gloria Takes a Stand), and Sue Fliess (Mary Had a Little Lab).
Authors and illustrators present their works, hold interactive discussions and host roundtables. The day culminates with a book signing and raffle.
Special events during the festival include the unveiling of this year's Green Earth Book Award winners, and presentations of the annual Sonia Lynn Sadler Illustrator and SU Alumni Mentor Literature awards.
Presented by The Nature Generation, the Green Earth Book Awards recognize sustainability in children's literature.
The Sadler Illustrator Award is presented in memory of its namesake by Dr. Patricia Dean of SU's Early and Elementary Teacher Education Department; Sadler's parents, Wellington and Inez Sadler; and author Johnson, whose book Seeds of Change Sadler illustrated. The prize honors diverse illustrators who create books for youth.
The International Board on Books for Young People's (IBBY's) current Silent Books Collection also will be on display at the festival. The repository of wordless picture books was created to provide materials children could understand and enjoy regardless of language.
Admission is $40, $20 for SU students. Advance registration is required. Lunch is included. To register visit the festival website at www.salisbury.edu/academic-offices/education/early-and-elementary-education/child-lit-fest.aspx.
For more information email Dean at pkdean@salisbury.edu.