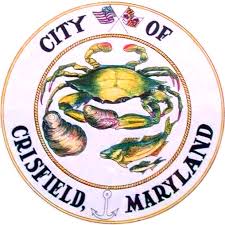 The City of Crisfield is working with three projects to address climate resilience and flooding, Crisfield also has major projects underway for tide gates and stormwater pumping stations, wastewater pumping stations and pipe lining, armory rehabilitation, and business façade improvement, as well as other grants.
Climate Resilience and Flooding Mitigation Projects
The City of Crisfield is working with the Federal Emergency Management Agency (FEMA) Building Resilient Infrastructure and Communities (BRIC) Direct Technical Assistance (DTA) BRIC DTA gives full support to communities that may not have the resources to begin climate resilience planning and project solution design on their own. Through process-oriented, hands-on support, BRIC DTA will be instrumental in work that will mitigate flooding issues, including coordinating all partner groups and agencies supporting this work. The City anticipates submitting a BRIC grant for infrastructure that will mitigate flooding in January 2024 and is working with DTA to identify the best use of these potential funds.
Crisfield is also participating in a Climate Resilience Evaluation Tool (CREAT) Building Regional Water Utility Resilience project along with the Town of Chesapeake Beach and Cambridge. CREAT is an Environmental Protection Agency (EPA) tool that assists water sector utilities in assessing climate-related risks to utility assets and operations. Crisfield is using ditch maintenance, a high priority for the City, as the exercise for this software. It is anticipated that the information derived from the CREAT exercise may be helpful in identifying much-needed funding for this maintenance. The CREAT project is a short-term project with exercise results early in 2023. The results from this exercise will be helpful in applying for funding sources that are not included in the BRIC grant, which only addresses FEMA funds. Use of the CREAT tool does not lead directly to funding but provides information that will be valuable in future grant applications.
The City of Crisfield will also soon begin to work with a project headed by The Nature Conservancy (TNC). The Nature Conservancy is partnering with George Mason University (GMU) and the University of Maryland's Environmental Finance Center (EFC) to bring flood adaptation support to Crisfield. The flood adaptation strategies identified by the TNC project have been led by 15 community members. The goal of this project is to provide City decision-makers with recommended adaptation approaches that support ongoing flood mitigation and planning efforts. TNC will also explore financing and policy options to implement recommended strategies.
Ditch Mapping Project
Early in 2023, the City of Crisfield will also begin working on a ditch mapping project with the Eastern Shore Regional GIS Cooperative (ESRGC). The ESRGC is an outreach entity of Salisbury University and is a joint effort between the Mid-Shore Regional Council, the Tri-County Council of the Lower Eastern Shore of Maryland, the Upper Shore Regional Council and the University. Mapping of existing ditches is one of the steps necessary to completing a ditch maintenance plan for Crisfield. This project will result in mapping that will identify the locations of ditches throughout the community enabling the City to conduct work to improve flow in the ditches, which serve as the stormwater system. This project is supported by Rural Maryland Prosperity Investment Funds through the Rural Maryland Council and the Tri-County Council of the Lower Eastern Shore of Maryland.
Tide gates and Stormwater Pumping Stations
The City of Crisfield has grant funding dedicated to installing 11 tide gates and two stormwater pumping stations. This includes $1,379,474 in Federal Emergency Management Agency (FEMA) funds and $92,274 remaining in Maryland Department of the Environment (MDE) funds.
The City is currently applying to FEMA to replace three tide gate locations, that have already been funded through other sources, to be replaced with three locations identified in the Drainage Assessment Study. Once FEMA approves this modification, a Request for Proposals will be released to identify an engineering firm to oversee the project.
The tide gates are proposed to be placed at the following locations: Lorie Quinn Drive, Wynfall Avenue, Tawes Drive, 7th Street, Woodson School, Somerset Ave extended, Village Drive, Charlotte Avenue, Broad Street (Lumber), Broad Street & 9th Street and Broad Street (West).
Stormwater pumping stations will be located at Broadway & 8th and the Norris Harbor Drive intersection with Gerald Ditch.
The City will apply for additional funding for flooding mitigation through the BRIC grant mentioned above as additional solutions are identified.
Wastewater Pumping Stations and Pipe Lining
Crisfield has the following wastewater projects underway:
Inflow and Infiltration (I & I). I & I involves scoping and lining sewer pipes as needed to repair pipes that have become porous and are allowing too much ground water to enter, impacting the processing of sewage. This project is being completed by the contractor Standard Pipe. This project is 90% complete and MDE will be allowing additional funds to be used for additional investigation and cleaning related to sanitary sewer overflows. This project is funded by MDE & the United States Department of Agriculture (USDA) loans and forgivable loans for a total of $838,272.
Replacement of wastewater pumps at Cove Street, Rubberset, and Jersey Island. The City has three wastewater pump stations located; Cove Street, Rubberset (Sherwin Williams building) and Jersey Island (Norris Harbor Drive). The pumping stations at Cove Street and Rubberset are being replaced with MDE/USDA-RD funds now, and the engineering firm of Davis, Bowen, and Friedel are currently in the design phase. Construction for these pump stations is scheduled to begin in the summer of 2023. Construction of the Jersey Island Pump Station will begin by December 2023. These projects are funded by MDE & USDA loans and principal forgiveness loans for a total of $4,392,300. These reflects the following costs: Cove Street (MDE funds of $499,300) and Rubberset (MDE funds of $1,850,000) along with USDA-RD funds of $1,293,000 and Jersey Island (MDE funds of $650,000 and City funds of $100,000).
1936 Sanitary Sewer Investigation and Rehabilitation Phase II, Water Isolation Valve Installation, and Large Water Meter Replacement. These projects are funded by the first round of American Rescue Funds, totaling $1,263,000 are scheduled to be completed by the summer of 2023. The 11 isolation valves will allow water in each part of the City to be shut off when repairs are needed, so that water service to the entire City is not shut off when a portion of the water system is under repair. The valves areas have been identified and has been bid and awarded. This project should take six to nine months.
The 1936 Sanitary Sewer Investigation and Rehabilitation Phase II is currently underway with Chesapeake Environmental Services (CES). These are the large CES trucks currently seen around the City. They are investigating which pipes need repair. They will complete the investigative portion by the end of month barring any issues, with pipe rehabilitation taking place later this spring.
The large water meters project will ensure that water system users in the County are charged fairly for use of water. Around 2007 the City received grant funds to install water meters. The large water meters, which serve the County, failed and were replaced under warranty. The warranty only covers the meters, not the installation. The City is investigating funding options as the installation is estimated to cost $100,000.
Armory
The Department of Housing and Community Development has funded four grants for a total of $1 million in rehabilitation for the Crisfield Armory at 8 Main Street. The rehabilitated building will house community events, meetings, weddings and other celebrations as well as indoor sports activities. It is also envisioned as a space to relocate outdoor events, such as the Fourth Saturday Bay Art Stroll or Christmas in Crisfield, during inclement weather.
The asbestos has already been removed from the historic Crisfield Armory, and the City of Crisfield has a contract for $636,560 with Delmarva Veteran Builders to restore the exterior of the building. Work is well underway on this contract, and two out of the three roofs have been replaced. The vegetation has been removed from the exterior of the building to allow access to the existing masonry, and Ri-Core Masonry is in the process of cutting out and prepping the mortar joints. This work is estimated to be completed in January. Finally, where needed, the floor joists and flooring were replaced inside of the building.
The most recent grant, for $250,000, will be used to address the needed heating, ventilation, and air conditioning upgrades and mold remediation. The City is exploring sources for the needed funding to complete this renovation.
Façade Improvement
The Crisfield Business Development and Façade Improvement program is funded by the Department of Housing and Community Development (DHCD) and has supported the improvement of 11 business since 2019 for a total of $143,330.
Due to a lack of applicants, approximately $35,000 in funding remains from the combined 2020 and 2021 grants. It is anticipated that this program will open again early in 2023 and will fund upgrades to three or four businesses. There will be a press release and public announcement when the application period opens. If you would like to be added to a mailing list for updates on this program, please email jmerritt@crisfieldcityhall.com. If there are more applicants for this program than available funding, the City will use these additional applications to apply to DHCD for additional funding next year.
Other funding
Crisfield has $1,263,000 through Round II of the American Rescue Funds. The use of these funds will be determined by the Mayor & City Council. Their decision will be informed by input collected at the Community Engagement Forum held November 10th, 2022.
There is $701,606 remaining in grant funding from the Department of Housing and Community Development for construction of a youth center for It Takes A Village to Help Our Children, Inc. This non-profit has also secured $350,000 from the Weinberg Foundation, $200,000 from Rural Maryland Council, $100,000 from Somerset County, $30,000 from the Community Foundation of the Eastern Shore and $40,000 from citizens and businesses was contributed during the organization's capital campaign. The initial estimate for the building was $1.65M. The most recent estimates say it will cost $3 million to complete the project. This is $1.5 million short of the funding already secured. It Takes A Village to Help Our Children, Inc. is searching for ways to identify the remaining funding, including appealing to legislators.
The City of Crisfield also has funding to hire a part-time Circuit Rider to assist with grants and to serve as the Arts & Entertainment District Coordinator. This is a Department of Housing and Community Development grant. The $50,000 in funding is shared equally with the town of Princess Anne, which is also hiring a part-time Circuit Rider.
A $90,000 grant from the Maryland Department of Natural Resources for the Crisfield Depot Piers and Walkways will serve to repair the damaged south side of the City Dock. The City has applied for an additional $160,000 for needed structural repairs to this part of the dock. The total needed for dock repairs is approximately $2 million.
The City of Crisfield is grateful to Senator Mary Beth Carroza for sponsoring a $100,000 bond bill towards improvements for the Crisfield City Dock. These funds will be used towards planning that will create an even more inviting space for residents and the community, as well as preparing the dock to host large events.
Crisfield has also recently applied for a Connected Devices grant through the Office of Statewide Broadband, in partnership with the Somerset County Library. If awarded, this program will distribute 500 laptops to eligible households that can show documentation of being within 200% of federal poverty guidelines. The laptops will be awarded on a first come, first serve basis and more information, including qualifying documentation, will be available in advance of the program.
The City has completed a $39,960 broadband expansion grant from the Office of Statewide Broadband to install broadband to the water tower. This project installs fiber to the water tower to provide wireless service to the Housing Authority, marina, and Smith Island. The next step is for the Maryland Broadband Cooperative to choose an Internet Service Provider for the tower.
Somerset County and the City of Crisfield have partnered to improve and enlarge the City's airport hangers. Federal Aviation Administration (FAA) funds can only be received by airports at which at least ten airplanes are based. Senator Mary Beth Carozza assisted in securing $850,000 of State funds to demolish the five existing, aged, hangers and replace them with ten hangers. A E COM consultants were hired in September to start the permitting and planning for this project, estimated to be completed in 2024.
Crisfield will be applying for $150,000 for marketing through a Chesapeake Gateways Network Grant. This application will include funding for a marketing plan, a community calendar to be shared on the City website as well as major organization's websites throughout Crisfield, a large digital display for the City parking lot area, and a video series about the heritage and tourism opportunities available in Crisfield.
The City will also apply for $50,000 from the Federal FY22 and FY23 Drinking Water State Revolving Loan Fund Bipartisan Infrastructure Law Funding for Lead Service Line Replacement for a water service line inventory, which is the first step in addressing lead pipes which are a part of aging infrastructure. There is a federal requirement to identify and make public the locations of lead service lines by October 16, 2024.
Police Department Projects and Progress
The Crisfield Police Department (CPD) receives $10,000 per quarter from the Crisfield Housing Authority for officers to do extra patrols, keep an eye on crime with the help of a camera system that has been installed around the Housing Authority to provide access to any unusual activities or disturbances. Monthly reports are given to the Director and Housing Authority Board at the end of the Month for review. This includes any/all arrests of Part I Crimes, Traffic Stops, Patrol Checks, etc.
Somerset County Health Department (SCHD): SCOUT (Somerset County Opioid United Team) awarded the CPD $10,000 toward our K-9 Maintenance, Training, CDS Activity for all overtime involving these natures.
Somerset County Health Department Compliance Checks (Underage Alcohol) awarded the CPD $1,000 toward overtime funds to be used for monitoring underage consumption of alcohol. The CPD officer monitors sales at all locations in Crisfield that sell any alcoholic beverages.
Somerset County Health Department Underage Tobacco awarded the CPD $2,000 toward overtime funds to be used to monitor the use of tobacco sales to underage minors at all businesses in Crisfield that sell Tobacco products to make sure there are no violations and report any if there is.
The CPD has been awarded $50,000 from USDA, Rural Development for one vehicle which has been ordered.
MCIN – (Maryland Criminal Investigative Network) awarded the CPD $3,000. The Governor's Office of Crime Prevention, Youth, and Victim Services provides grant funding and strategic support to MCIN member sites to identify, disrupt, and dismantle criminal organizations through interagency collaboration.
The Local Management Board – (LMB) assists the CPD whenever the need arises such as with the Thanksgiving Food Drive. Last year they sent a $500 donation and they coordinated previously with the Maryland Food Bank to help provide for the five participating families.
The CPD continuously finds and secures grant funds and is always searching the Governor's Office for Crime Control and Prevention (GOCCP) Website for additional funding that would promote or advance the department.