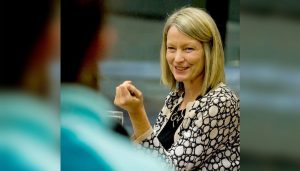 SALISBURY, MD—In a world divided over politics, personal beliefs and the online minutia of the day, a little civility goes a long way.
Dr. Elizabeth Lynn, founding director of the Center for Civic Reflection, provides insight on the issue during her presentation "Civic Dialogue in Polarized Times" 5:30 p.m. Wednesday, March 6 at Salisbury University's Ward Museum of Wildfowl Art.
Her talk takes place at the museum's John A. Luetkemeyer Sr. and Thomas F. Mullan Jr. Legacy Center. A reception follows in the museum's Atrium.
The director of the Institute for Leadership and Service at Valparaiso University, where the center was founded, Lynn teaches in the field of philanthropic leadership and service, and conducts research on the role of humanities in U.S. civic life.
She is the author of multiple papers on civic reflection — listening to others and to one's self and thinking carefully about civic choices and commitments — including "An Ongoing Experiment: State Councils, the Humanities and the American Public." She also is co-editor of The Civically Engaged Reader.
Sponsored by SU's Institute for Public Affairs and Civic Engagement (PACE), admission is free and the public is invited. Those planning to attend are asked to RSVP at https://docs.google.com/forms/d/e/1FAIpQLSeIOnMtkEAW8pJNwbP1Blf9iCBeeHTHYOmF8a_HU2axWcxASg/viewform.
For more information call 410-677-5045 or visit the PACE website at https://www.salisbury.edu/academic-offices/liberal-arts/pace/index.aspx.