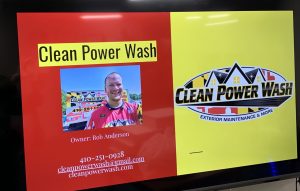 by Cathy Diekmann
COVID times are tough, no doubt. Yet, some business owners in Delmarva are in growth mode. Rob Anderson, owner of Clean Power Wash and Delmarva Christmas Lights, recently moved both business to an expansive warehouse located at 9156 Ocean Highway in Delmar Maryland.
The milestone was celebrated on February 11, 2021 at a Salisbury Area Chamber of Commerce (SACC) Business After Hours and Ribbon Cutting. "We are fortunate to have a great team that isn't afraid of hard work. They will climb tall ladders and get wet in all kinds of weather to get jobs done," Anderson beamed.
The event was attended by SACC members, Clean Power Wash clients and employees.  The warehouse capacity allowed plenty of space for social distancing and COVID safety precautions were followed. Ocean City Pit & Pub provided light fare for the evening.
Anderson explained how professional exterior cleaning is not the same as DIY pressure washing. The latter blasts dirt and debris off of a roof or siding with as much pressure as possible but can damage the property one endeavors to maintain.  Clean Power Wash utilizes booster bumps and a proportioner that allows the technician to customize the cleaning agent and pressure load to suit each job.
"If it's outside and dirty, we can clean it," Anderson asserts. They clean siding, roofs, gutters, decks, and walkways for residential and commercial properties. They provide specialty cleaning such as rust and oxidation removal and degreasing. Clean Power Wash chooses from over 30 different commercial grade chemicals appropriate for specialty woods and safe for surrounding landscaping.  "Ipe, a Brazilian hardwood turns grey when dirty or sun bleached, but it's easy to mess up if you don't know what you're doing. When cleaned correctly, it's absolutely gorgeous."
Clean Power Wash strives for timely, customer-focused service. "We want to be the first company to respond to an inquiry. We answer the phone, schedule a quote, and get you taken care of quickly," notes Anderson.
The winter holidays may be behind us, but there are still opportunities to utilize Delmarva Christmas Lights for your business or special events. Anderson explains, "In today's competitive market and the need for outdoor restaurant or retail service, a business needs to stand out. What helps you stand out? Lighting!" Delmarva Christmas Lights is a full-service lighting company. "We provide the lights, we put them up, maintain them, take them down and store them for the next job." Clearly this saves customers the time and hassle of trying to rig their own lighting as well as keeping them safely on the ground to their real job.
"We're also seeing an increased interest in permanent backyard bistro lighting for residences," Anderson said.  "Lighting extends the utility and atmosphere of outdoor space, whether for everyday enjoyment or special events like weddings."
To learn more about Clean Power Wash and Delmarva Christmas Lights, check them out on Facebook or their websites, cleanpowerwash.com and delmarvachristmaslights.com.  To have your member business Gain exposure and influence by hosting a Salisbury Area Chamber of Commerce membership event! Call 410-749-0144 for more information. Not a member, yet?  Contact Cathy Diekmann at cdiekmann@salisburyarea.com to learn about membership benefits and opportunities.