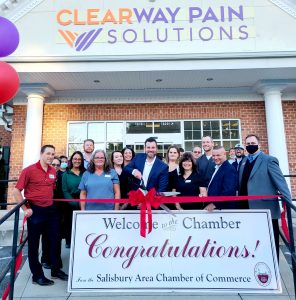 Is your back aching from last week's gardening, or is it still nagging from that unfortunate accident you had last year?
Pain comes in many forms, differing intensities, from numerous causes, and understanding the source of your pain is key in developing a treatment plan.
Relief is in sight for aching Delmarva residents at a new Salisbury Area Chamber of Commerce member business, Clearway Pain Solutions. They are a leading pain management medical practice focused on relieving pain, restoring function, and renewing the quality of life for their patients.
On Tuesday, October 19, 2021, Medical Director Dr. Robert Rankin, the Clearway Pain Solutions team, and SACC members gathered to celebrate with a ribbon-cutting at their newest location and state-of-the-art surgery center located at 6503 Deer Pointe Drive, Salisbury, MD.
Clearway Pain Solutions currently has 23 practices in Maryland, plus offices in Alabama, Delaware, and Florida.
Clearway Pain Solutions offers a comprehensive, integrated system of advanced pain solution treatments where they serve as the end-to-end coordinator of interventional treatments, medication management, and regenerative medicine, along with lab testing, durable medical equipment, and pharmacy services.
They also specialize in helping patients recover from workplace and auto accident injuries. Soon to be a one-stop-shop, chiropractic services, physical therapy, and massage therapy services will be offered at the Salisbury location.
A multidisciplinary team practice, they are at the top of their professional game in support of each patient – with board-certified physicians, advanced practitioners, chiropractors, physical therapists, and dedicated support staff.
Dr. Rankin stated that they can accommodate new patients within 48-72 hours of being referred, offering eight treatment rooms, and taking all insurances.
"By offering good quality comprehensive pain management we are also helping to fight the opioid epidemic from within and the right way."
For more information about Clearway Pain Solutions visit clearwaypain.com or call 855-527-PAIN.