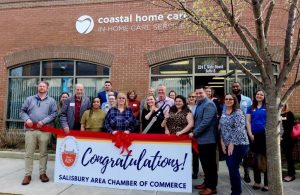 The Salisbury Area Chamber of Commerce celebrated with a ribbon cutting the new offices for Coastal Home Care located on 224 E. Main St in downtown Salisbury on March 29, 2023.
Jon Coffey, Operations Manager, stated "We started in 2010, and have been known on the other side of the bridge as Capital City Nurses. Our corporate headquarters in VA is known as Care Advantage; and they have a total of 40 branches however each brand has its their own identity. Here we are known as Coastal Home Care, and we cover all of Wicomico County as well as the entire state of Delaware. For us it is a twofold reality, we serve the community so they can stay in their homes and be well but are thrilled to be creating jobs and employing the community. We are excited to be here, be part of the Salisbury Area Chamber of Commerce and be able to enrich the life of the people that we interact or work with every day."
Coastal Home Care serves all of Wicomico County, as well as the entire state of Delaware, offers services such as elder care, fall prevention care and post-operative care, medication management, meal preparation and feeding, companionship care, hospice support, Alzheimer's and dementia care and much more with a tailor-made approach to in-home care thanks to the wide-ranging talent in their team. While many of the clients simply need a little bit of help such as shopping, cooking, cleaning, dressing, or bathing, taking to appointments, etc. some of our clients need the extensive medical care of a licensed professional, registered nurse or a trained companion.
Over 50 members of the chamber participated in the ribbon cutting, including Salisbury Mayor Jack Heath and leaders from the Ocean Pines Chamber of Commerce.
Guests enjoyed catering provided by Taylor's BBQ and desserts by The Ugly Pie, as well as beers and wine; and door prizes included 3 wonderful baskets with gift cards from Roadie Joe's, Rise Up and The Ugly Pie.
For more information visit www.coastalhomecarees.com or call 866-687-7307, 24 hours a day, 7 days a week.