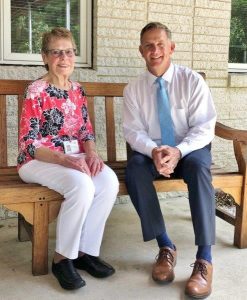 Agreement Solidifies Hospice Care at All County Nursing Homes
SALISBURY, MD – August 21, 2019 – Coastal Hospice and Wicomico Nursing Home launched a partnership this summer, providing nursing home residents access to hospice services.
"Partnering with Coastal Hospice provides our patients with a crucial extra layer of care for patients approaching the end of life," said Mary Schwartz, Administrator at Wicomico Nursing Home. "This give patients and their family the support they need to make the decisions required. Coastal Hospice brings nearly four decades of expertise and in just a short time they have become a tremendous asset to our patients and staff."
Patients at the nursing home have access to care from a team of professionals that includes doctors, registered nurses (on call to the facility 24/7), certified hospice aides, social workers, spiritual counselors and trained volunteers. Some services available include:
Music therapy
Pet therapy
We Honor Veterans Program for U.S. Service Veterans
Non-denominational spiritual care
Assistance with daily tasks and self-care
Access to the Compass Program, a free, non-medical program, that connects patients with serious illnesses to support in order to improve their quality of life
Assistance with advanced directives and pre-planning
Bereavement services for family and loved ones
With the completion of the agreement, Coastal Hospice now serves patients in all the nursing homes in Wicomico County, as well as those in Worcester, Somerset and Dorchester counties.
"This agreement is particularly exciting as it assures that residents of all nursing homes in Wicomico County have access to hospice care," said Coastal Hospice CEO Alane Capen. "Nursing home patients often do not have family nearby, and hospice can provide spiritual care, daily living support, medication recommendations, companionship and other services to augment what the nursing home provides, helping to assure dignity and comfort in a patient's final months of life."
Wicomico County Executive Bob Culver added, "I am pleased that the cooperative agreement between Wicomico Nursing Home and Coastal Hospice has been finalized. The expertise that Coastal Hospice offers will greatly benefit the residents and their families."
About Coastal Hospice & Palliative Care
Founded in 1980, Coastal Hospice is a non-profit health care organization that cares for individuals facing life-limiting conditions but do not want to be defined by them, and instead want to remain as active and engaged as possible during the final chapter of their lives. Coastal Hospice cares for patients in their own homes, as well as in nursing homes, assisted living facilities, at Coastal Hospice at the Lake and the new Stansell House. The organization also provides "palliative" care which treats the symptoms and relieve the pain of a terminal illness or injury so that patients can enjoy the time remaining. Learn more about Coastal Hospice at www.coastalhospice.org and follow on Facebook and Instagram.