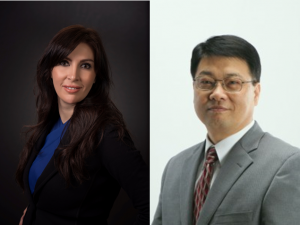 SALISBURY, MD – Feb. 26, 2019 – Coastal Hospice announces the organization's new board of directors for 2019, including two new members.
Stephen R. Farrow, formerly the board's vice chair, assumes the chair position from immediate past chair, Michael P. Dunn. Michael E. Shrader is now vice chair; Richard M. Laws is treasurer; and Byron Braniff is secretary.
New members of the board include Parisa Gholamvand and Andy Kim, both of Salisbury. Gholamvand is a residential and commercial real estate agent with Coldwell Banker Residential Brokerage while Kim is a Certified Public Accountant and the principal at Kim and Associates, PA.
They join returning board members Colleen "Cam" Bunting, David "Buddy" Dykes, Roger L. Harrell, Madalaine Leszcz How, Barbara C. Long, Wiltssy Payero, Robert M. Purcell, Anthony S. Sarbanes, and Margaret M. Whitten.
Founded in 1980, Coastal Hospice is a nonprofit health care organization that cares for individuals facing life-limiting conditions but who want to remain as active and engaged as possible.  Coastal Hospice cares for patients in their home, nursing home, assisted living facility or at Coastal Hospice at the Lake, and serves Somerset, Dorchester, Wicomico and Worcester counties.
###