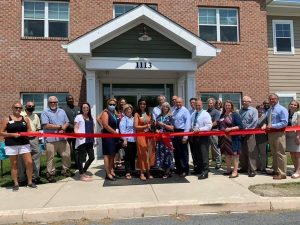 By Cathy Diekmann
August 2021 marks a significant month in the history of Coastal Hospice and Palliative Care. After 16 years of service, President Alane Capan announced her retirement and Monica Escalante was tapped to take the helm as the next president. The transfer of leadership and expansion into Coastal Hospice's new administrative offices at 1113 Healthway Drive in Salisbury was celebrated with a Salisbury Area Chamber of Commerce (SACC) ribbon cutting ceremony on August 5, 2021.
Carrying out the Coastal Hospice mission to provide dignity and quality of life for patients and families who face life-limiting conditions is a team effort involving over 200 employees and a dedicated cadre of board members and volunteers.
That mission was repeatedly extolled during the ribbon cutting event. City of Salisbury Mayor Jake Day remarked how seamlessly all Coastal Hospice representatives refer to the mission. "To focus on lending dignity to people's lives as a mission…That is a rarity. It's special and it's important."
Referring to Coastal Hospice's Honor Our Veterans program, Day added, "To lend that same dignity and offer special care to the people who have served our country, and fought for it bravely, on behalf of every living veteran and the families of those who have served, let me say 'Thank you."
FouCoastal Hospice Senior Director of Business Development, Bob Miller, praised Capen's commitment to the organization's mission, vision, and values. "She has given 16 years of her life to this mission and has encouraged us to believe in it as well. What we are doing is noble. It is a just cause."
Reminiscing about the "little house," the original Coastal Hospice office on Old Ocean City Road, Capen joked, "Some time ago, a (Coastal Hospice) board member described staff as 'hanging from the rafters to find a place to work.' This new building gives us the space we need to serve and grow. It provides a professional and pleasant environment where our staff can feel good about doing the work they do every day."
Capen added, "It has been my pleasure and my honor to serve Coastal Hospice all these years. I am handing it off to someone who comes with a lot of experience and a fresh perspective that will take the mission to new heights."
After two decades with Montgomery Hospice, Escalante brings a wealth of knowledge and experience to her new role. At Montgomery Hospice, Escalante served in the capacity of Director of Volunteer Services, Chief Communications Director/Business Development, and Chief Financial Officer. She supervised intake and admissions, facilitated organizational partnerships and secured development funding that led to significant growth.
Clearly, Escalante thinks highly of her new team as key to their shared success.  "I promise that we will continue to deliver the best possible care because the Coastal Hospice team is one of the best in the nation."
In closing, Escalante encouraged others to provide feedback and bring awareness to the areas where Coastal Hospice can improve and grow. She explained, "It's my job to continue the legacy that Alane has left to all of us, but we can only do this together, in community, with the community, for the community."
For more information about Coastal Hospice, check out their web page www.coastalhospice.org or follow them on Facebook and Instagram.