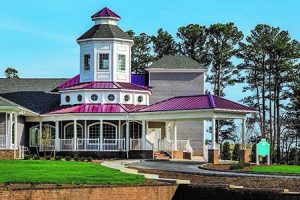 Blues on the Bay and Coastal Walk Draw Large, Enthusiastic Crowds
SALISBURY, MD – NOVEMBER 18, 2019 – Coastal Hospice hosted two fundraising events this autumn to benefit the Macky & Pam Stansell House of Coastal Hospice. Now that the first residential hospice facility on the Lower Shore has opened, all fundraising dollars will go towards charitable care at the Stansell House.
The annual "Blues on the Bay" fundraiser took place on September 25 and celebrated the opening of the long-awaited Stansell House. The well-attended event was held at Macky's Bayside Bar & Grill in Ocean City, MD and raised more than $19,000. During the event, Coastal Hospice debuted a video featuring the family of the first patient to stay at the Stansell House, a very moving tribute to the patient and the experience.
Coastal Hospice held the inaugural Coastal Walk & 5K at Assateague State Park on October 12. With more than 60 people in attendance for the two-mile walk and 5K fun run, the event raised $9,500.
"We are touched by the support of both of these events by our donors and volunteers, and the caring and dedication that have contributed to the opening of the Stansell House," said President Alane Capen. "Every donation to Coastal Hospice touches someone in need of care."
For those who would like to donate to Coastal Hospice as the year comes to a close, consider donating to the end of year Angel Appeal found at www.coastalhospice.org.
Do You Know Coastal Hospice & Palliative Care?
Founded in 1980, Coastal Hospice is a non-profit health care organization that cares for individuals facing life-limiting conditions but do not want to be defined by them, and instead want to remain as active and engaged as possible during the final chapter of their lives. Coastal Hospice cares for patients in their own homes, as well as in nursing homes, assisted living facilities, at Coastal Hospice at the Lake and the new Stansell House. The organization also provides "palliative" care which treats the symptoms and relieve the pain of a terminal illness or injury so that patients can enjoy the time remaining. Learn more about Coastal Hospice at www.coastalhospice.org and follow on Facebook and Instagram.