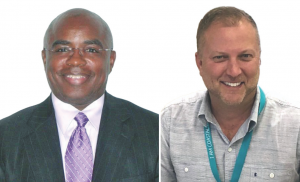 SALISBURY, MD – July 7, 2020 – Stephen Burris has joined Coastal Hospice as Vice President of Finance. He is responsible for optimizing the financial performance of Coastal Hospice and overseeing the finance department. Before joining Coastal Hospice, Stephen spent more than 25 years in the financial and operational field serving in roles such as COO, CFO and Controller within the medical and aerospace manufacturing industries.
Stephen is an Eastern Shore native and is involved in many church and local organizations and is a current board member of Salisbury Wicomico Economic Development (SWED). He resides in Quantico, MD with his wife and two daughters and enjoys spending his free time on the local waterways.
Dr. Mark Bowen has been promoted to Provider & Community Relations Liaison. The Provider & Community Relations department, formerly known as Provider Relations, has expanded its focus to include community education and outreach. Prior to his promotion, Dr. Bowen worked part-time for Provider Relations and part-time for Compass. In his new role, Bowen will focus on growing diversity among the patient population, as well as providing education and outreach to minority groups and their families to allow easier access to Coastal Hospice services and support.
Dr. Bowen is a former teacher, principal and district supervisor in the educational field, and has also served on the faculties of the University of Maryland and Sojourner-Douglass College as a visiting lecturer. He worked as a Deputy with the Worcester County Sheriff's Office and was previously appointed as Director of Gang Intelligence for the Maryland Department of Juvenile Services. In his spare time, Bowen enjoys golfing, motorcycle riding and showing his classic Porsche.
"Both Stephen and Mark bring a wealth of knowledge to our team," said Alane Capen, President of Coastal Hospice. "In their roles they will continue to improve the experiences of our patients and their families."
For more information, Stephen Burris and Dr. Bowen can be reached at 410-742-8732.
Do You Know Coastal Hospice & Palliative Care?
Coastal Hospice is a non-profit health care organization dedicated to caring for individuals who are facing life-limiting conditions but do not want to be defined by them. Hospice care, which is a free Medicare and insurance benefit, is delivered in patients' homes, in nursing homes and assisted living facilities, at Coastal Hospice at the Lake and the new Stansell House. Palliative care, designed to help manage the pain, symptoms and stress of long-term, terminal illness, is also provided. Family education, pediatric hospice care, bereavement care and much more is also available. In 2020, Coastal Hospice is celebrating its 40th Anniversary of serving Dorchester, Somerset, Wicomico and Worcester Counties. Learn more about Coastal Hospice at www.coastalhospice.org and follow them on Facebook and Instagram.