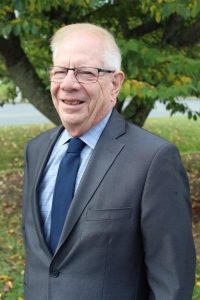 SALISBURY, MD – September 25, 2019 – Arnold Scher has joined Coastal Hospice as Vice President of Human Resources, responsible for strategic and operational human resource functions. In this role he will work to ensure that employee satisfaction and retention are prioritized, making Coastal Hospice the employer of choice in the region.
Scher brings 30 years of experience to the position, formerly holding several senior HR positions in a variety of fields, including healthcare, senior living, manufacturing operations and local government.
"I am confident that Arnold will help us hire only the best clinical and support staff for Coastal Hospice," said Alane Capen, President of Coastal Hospice. "We are a large organization with a number of moving parts, and his 30 years in human resources provides him with the knowledge and experience to succeed."
Scher received his Masters of Administrative Science from Johns Hopkins University, and also completed an Advanced Learning Program focused on Organizational Development through the University of Virginia Darden School of Business.
He is originally from Richmond, Virginia but recently relocated to the Eastern Shore.
Do You Know Coastal Hospice & Palliative Care?
Founded in 1980, Coastal Hospice is a non-profit health care organization that cares for individuals facing life-limiting conditions but do not want to be defined by them, and instead want to remain as active and engaged as possible during the final chapter of their lives. Coastal Hospice cares for patients in their own homes, as well as in nursing homes, assisted living facilities, at Coastal Hospice at the Lake and the new Stansell House. The organization also provides "palliative" care which treats the symptoms and relieve the pain of a terminal illness or injury so that patients can enjoy the time remaining. Learn more about Coastal Hospice at www.coastalhospice.org and follow on Facebook and Instagram.