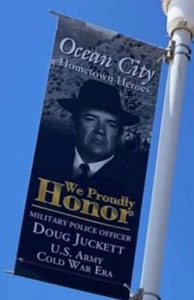 SALISBURY, MD – March 30, 2021 – Dorothy Juckett donated $5,000 to the Stansell House in memory of her late husband, G. Douglas Juckett. Juckett was a US Army veteran and served on the Anne Arundel County police force for 30 years.
When asked why she chose to give to the Stansell House, Dorothy said, ""Words cannot express my thanks and gratitude for the tender loving care given to my husband at the Stansell House. The entire staff from the moment we arrived was wonderful – they helped me get through the toughest time of my life – what a gift they are on this earth."
Do You Know Coastal Hospice & Palliative Care?
Coastal Hospice is a non-profit health care organization dedicated to caring for individuals who are facing life-limiting conditions but do not want to be defined by them. Hospice care, which is a free Medicare and insurance benefit, is delivered in patients' homes, in nursing homes and assisted living facilities, at Coastal Hospice at the Lake and the new Stansell House. Palliative care, designed to help manage the pain, symptoms and stress of long-term, terminal illness, is also provided. Family education, pediatric hospice care, bereavement care and much more is also available. In 2020, Coastal Hospice is celebrating its 40th Anniversary of serving Dorchester, Somerset, Wicomico and Worcester Counties. Learn more about Coastal Hospice at www.coastalhospice.org and follow them on Facebook and Instagram.