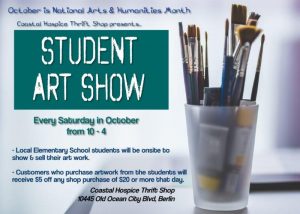 BERLIN, MD – OCTOBER 2, 2019 – Coastal Hospice Thrift Shop is supporting the Arts every Saturday in October and hopes the community will rally around them to celebrate National Arts & Humanities Month.
The Thrift Shop is partnering with Worcester County Schools in a program to showcase their elementary school students' artwork in the store, giving each student the opportunity to sell their artwork and keep the proceeds.
Every Saturday in October from 10:00 am – 4:00 pm shoppers can stop in to peruse the local artwork. If they purchase a piece, the customer will receive $5 off any purchase of $20 or more that day.
"We are very excited for Coastal Hospice Thrift Shop to serve as a platform for young artists in Worcester County," said Robert Stewart, Thrift Shop Manager. "The benefits of arts in education are numerous, and we are pleased to give children not only an outlet for their creativity, but also the opportunity to sell their art to the public."
National Arts & Humanities Month (NAHM) is a coast-to-coast collective recognition of the importance of culture in America. NAHM was launched by Americans for the Arts more than 30 years ago as National Arts Week in honor of the twentieth anniversary of the National Endowment for the Arts. In 1993, it was reestablished by Americans for the Arts and national arts partners as a month-long celebration.
To view the student schedule for each Saturday in October, please visit the Coastal Hospice Thrift Shop Facebook page. With any further questions, contact Robert Stewart by calling 410-603-4962.
Do You Know Coastal Hospice & Palliative Care?
Founded in 1980, Coastal Hospice is a non-profit health care organization that cares for individuals facing life-limiting conditions but do not want to be defined by them, and instead want to remain as active and engaged as possible during the final chapter of their lives. Coastal Hospice cares for patients in their own homes, as well as in nursing homes, assisted living facilities, at Coastal Hospice at the Lake and the new Stansell House. The organization also provides "palliative" care which treats the symptoms and relieve the pain of a terminal illness or injury so that patients can enjoy the time remaining. Learn more about Coastal Hospice at www.coastalhospice.org and follow on Facebook and Instagram.