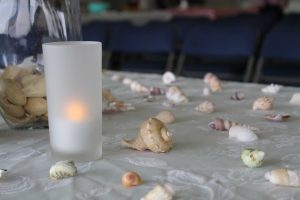 Community to come together to remember loved ones lost and memories found
Salisbury, MD – April 19, 2021 – Coastal Hospice will host its Annual Dorchester County Community Memorial Gathering on Sunday, May 2 at 3:00 p.m. at Long Wharf Park (High and Water Streets) in Cambridge, MD.  Free and open to the public, the purpose of the gathering is to provide a time of remembrance and reflection upon the life of someone special who has died.
"The gathering is a very special time for Coastal Hospice staff, our bereaved families, and the entire Dorchester County community," said Alane Capen, President of Coastal Hospice.  "Each time we host a gathering, participants tell us they are a 'lifeline' that helps improve their ability to cope on their grief journey.  We are pleased to be able to again offer this gathering in Dorchester County and look forward to hosting anyone in the community who might benefit."
Everyone is invited to either bring their own sea shell, or Coastal Hospice will have shells available.  Attendees will be asked to write their loved ones names on the shell and following a brief time of reflection will return the shell to the Choptank River.  Coastal Hospice staff will be present to offer grief support and general information about the organization to anyone interested in learning more about the services Coastal Hospice offers.
In accordance with COVID-19 protocols, participants are asked to bring their own chair, to wear a face mask, and to practice social distancing during the brief ceremony.
The Coastal Hospice Dorchester County Office is located at 2 Aurora Street in Cambridge, MD.  The location offers services, community group meetings and information about hospice services.
In addition to the Annual Memorial Gathering in Dorchester County, Coastal Hospice also hosts annual gatherings in Wicomico, Worcester and Somerset Counties.  Each Gathering is free and open to the public and participants do not need to have had a loved one served by Coastal Hospice in order to attend.  For more information, call 410-742-8732 x 612 or visit www.CoastalHospice.org.