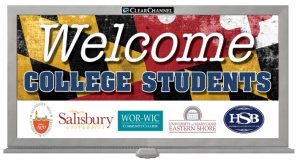 For its 16th year, the Salisbury Area Chamber of Commerce will welcome Salisbury University, the University of Maryland Eastern Shore, and Wor-Wic Community College students to Delmarva with its College Welcome Program.
The Chamber believes that college students are a vital part of the community and hopes to make students aware of their importance while welcoming them and their families to the area.
As part of this effort, the Chamber is asking area business owners with marquees to display the message "WELCOME COLLEGE STUDENTS" from August 5 thru August 30, 2019 and to display posters during the college move-in period.
The four-week College Welcome Program was initiated in 2004 by Stephanie Willey, Comcast Spotlight Local Sales Manager, and SACC Past-President, as an effort to connect and foster positive relationships between local businesses and residents with local college students.
"It is in the best interest of businesses to encourage students to shop, eat, and stay at your location," explains Willey. "Each year, local student spending generates hundreds of millions of dollars towards our local economy. With support from local stores, restaurants, and hotels, student spending will only increase."
Through a generous sponsorship from Hebron Savings Bank, the Salisbury Area Chamber of Commerce purchased billboards and posters displaying the "Welcome College Students" message.
Clear Channel sponsored five prominent locations throughout Salisbury, Fruitland and Princess Anne areas where the Welcome College Students message will appear beginning the week of August 5, 2019.
To receive a copy of the poster or for additional information about the Welcome College Program, contact Cindy Morgan Chambers at 410-749-0144 or achambers@salisburyarea.com.