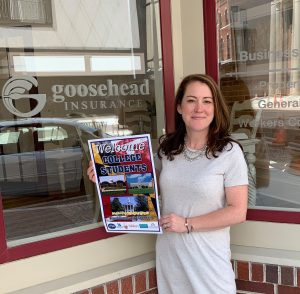 SALISBURY, MD – For the 19th year, the Salisbury Area Chamber of Commerce will welcome Salisbury University, the University of Maryland Eastern Shore, and Wor-Wic Community College students to Delmarva with its College Welcome Program.
Through generous sponsorships from Hebron Savings Bank and Clear Channel, the Salisbury Area Chamber of Commerce will purchase billboards and posters displaying a "Welcome College Students" message.
Beginning August 15, 2022, the welcome message will be displayed on billboards for four weeks, in five prominent locations throughout Salisbury, Fruitland, and Princess Anne.
Posters welcoming the students will also be displayed throughout the college campuses and local businesses during the college move-in period. Upon request, the SACC will deliver posters to local businesses and promote the business' participation on social media.
Local business owners that have marquees will also be asked to display the message "Welcome College Students."
The College Welcome Program was initiated in 2004 by Stephanie Willey, SACC Past-President, and GSM of 47ABC, as an effort to encourage positive relationships between our local college students and the business community.
"Each year, local student spending has a positive impact on our local economy," says Willey. "With support from local businesses and restaurants, students will feel welcome in our community and spending will increase. Our universities are powerful economic contributors to our local economy. Encouraging our students to shop and eat locally is good for the business community, and we want to encourage graduates to stay in our community after they finish their education. Fostering a positive relationship is a win-win for our students and the business community."
Bill Chambers, President/CEO of the Salisbury Area Chamber of Commerce added, "The regional business community is thrilled to welcome back the thousands of students returning for their 2022-2023 academic year. Local businesses appreciate the contributions these students make to our community and regional economy."
If you would like to welcome the students by hanging a poster in your place of business, please contact Cindy Morgan Chambers at 410-749-0144 x 102 or email amorgan@salisburyarea.com, or stop by the chamber office at 200 E Church Street, Salisbury, MD 21801 to pick up a poster.