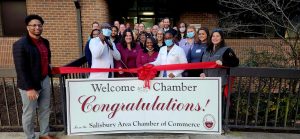 On December 14, 2022 SACC members joined Delmarva Kidney and Hypertension Specialists at the official ribbon cutting of their new office located at 560 Riverside Dr.
Guests were welcomed by Dr. Eric Ofori and Dr. Ndanda Mabhena-Ofori.   Dr. Madbhena-Ofori shared "We started this practice in 2016 when we came to Delmarva area, and we specialize in kidney diseases and high blood pressure.  A lot of people wonder if kidney disease is only dialysis, and it is not.  There are more things that are involved with the kidneys.  One of the problems associated with kidney disease is high blood pressure, so they come here to help reduce it.  Unfortunately, high blood pressure is very high in the Delmarva area, which could be associated with the diet. Our goal is to educate you in order to avoid needing dialysis." Dr. Ofori believes that his expertise as a nephrologist and a hypertension specialist is much needed in the Salisbury community, and the great team of professionals at Delmarva Kidney and Hypertension Specialists is here to serve you.
Delmarva Kidney and Hypertension Specialists LLC is a medical practice that provides care to people with kidney problems and high blood pressure. Their practice provides patients with education about prevention, management and monitoring of the disease.
The practice was founded by Dr. Eric Ofori, MD, FACP who received his medical training at Upstate Medical school in Syracuse, New York.  Dr. Ofori then went on to do his internal medicine residency at Robert Wood Johnson University Hospital in New Brunswick, New Jersey and after working as an internist for a year, he went on to pursue a fellowship in nephrology and hypertension at Northwestern University in Chicago, Illinois.  Prior to starting Delmarva Kidney and Hypertension Specialists, Dr. Ofori worked with a private nephrology practice in Upstate, New York.
Another member of the team, who was unable to attend the ribbon cutting, is Dr Olowaseun Oluwo, who joined the practice in 2021 and received his medical training in Nigeria. He then pursed a Master's in Public Health from Texas A&M University College Station Texas.  His internal medicine residency was completed at Brookdale Hospital Medical center in Brooklyn, NY.   His passion for improving the wellbeing of patients with various disorders involving kidneys led him into a Nephrology fellowship at University of Virginia.
The team is completed with nurse practitioner Ndanda Mabhena-Ofori. Ndanda received her Masters in nursing, and pursued his Doctor of Nursing in 2010, both completed at Monmouth University in New Jersey. Prior to joining Dr. Ofori, Ndanda worked as a nurse practitioner in Hematology/Oncology.
Guests were delighted with light fares, desserts and a flavorful non-alcoholic beverage of hibiscus, ginger and lemon.   Door prizes included were seasonally themed and included assorted items in a Holiday mug.
For more information visit Delmarva Kidney and Hypertension Specialists at 560 Riverside Dr, Unit A203, Salisbury, MD, www.delmarvakidney.com or call 443-978-7319.