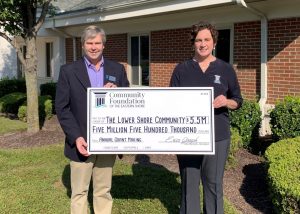 October 19, 2020 – Salisbury, Md. – The Community Foundation of the Eastern Shore has announced a total of $5.5 million in charitable grants for the 2020 fiscal year. These funds were awarded through more than 1,690 grants supporting various community needs and nonprofits across the Lower Eastern Shore, as well as more than 400 scholarships totaling $539,000. Despite the challenges brought on by COVID-19, the Foundation continued to demonstrate its commitment to the community.
While the pandemic imposed many hurdles this year, the foundation was able to continue serving area nonprofits and donors by quickly adapting its operations while creating new grant making opportunities for nonprofits. The foundation responded by creating the COVID-19 Emergency Response Grant Program, the Nonprofit Pandemic Recovery Technical Assistance Program, and moved nonprofit trainings and networking to an online format. The impact of local philanthropy has been essential to helping meet urgent needs, including supporting education, providing mental health services, serving vulnerable populations, and supporting local nonprofit organizations to ensure they can survive the economic ramifications of COVID-19
"For every challenge that demanded we be creative, nimble, and resilient, we were joined by others willing to adapt to new realities," says Community Foundation president Erica Joseph. "By working with community partners, donors, and nonprofits, we assisted with existing needs while attacking the many emerging needs head-on. We have always known we are stronger when we work together, and this year has really proven that."
The Community Foundation will celebrate annual grant making achievements at the 2020 Annual Meeting which will be held virtually on November 12, 2020. The Foundation will report on its philanthropic activities during the past year, and announce winners of the 2020 Community Foundation awards, as well as highlight philanthropic initiatives that serve the Lower Shore. The public is welcome to attend the Annual Meeting, however free registration is required. For information visit CFES.org/annualmeeting or call 410-742-9911.
In Photo: CFES Board of Directors Treasurer Todd Hershey and CFES President Erica Joseph.